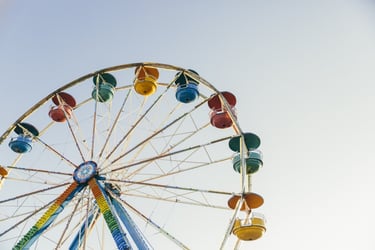 First of all, I'm sure we can all agree that Gmail is awesome. It provides anywhere access to our email with a slick interface. Over time, however, that inbox seems to grow into a monster! You've probably asked, "How can I organize my Gmail inbox?" With a flood of emails coming in, how do we stay on top of it? Have you ever glanced down at your phone and seen a notification that you have 12,753 unread messages? Let's take care of that problem.
Gmail organization tips:

Probably the easiest way to organize your Gmail inbox is by using filters, which allow you to label, archive or delete messages based on keywords and other criteria. Filters are similar to using rules in Gmail. In the upper right corner of the Gmail screen, click the Gear icon and then Settings.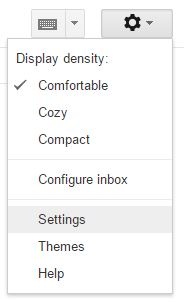 Next, click on the Filters tab and choose Create a new filter.

You'll also see any other filters that have been applied here. You can edit or delete them very easily.

Type in a sender's name, for example and then click Create filter with this search.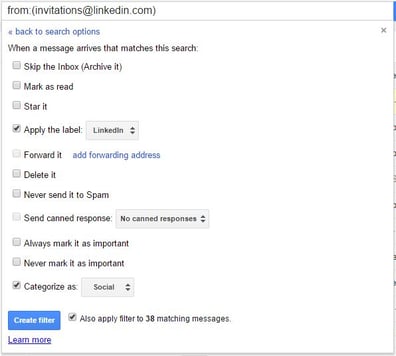 The other option is to
check the box
next to a message and choose
More
and then
Filter messages like these
.

(You can see that I have a message from Anne starred.
Stars
provide another way to categorize and access messages.)

In this example I'm applying a filter where the label "LinkedIn" is applied and it is categorized as "Social." I'm also doing a bulk filter by applying it to 38 matching messages. This is a great feature for cleanup. There are lots of choices and you can even have certain messages skip your inbox completely or be marked as read automatically! It'll be archived and labeled.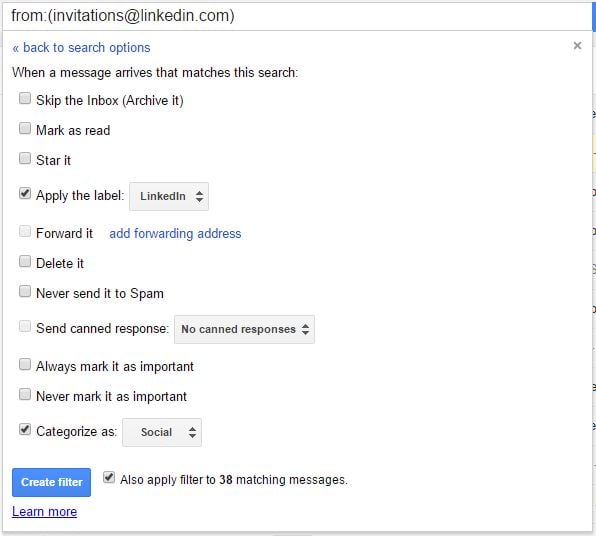 You can also click the dropdown arrow by Inbox and choose an Inbox Type to decide what you want to see listed first. This may be helpful to you if you need to check out what's important to you at a quick glance.

Another underutilized but powerful feature is the use of
labels
to categorize your messages. They're a lot like folders but behave a little bit differently and are more dynamic. You can apply a single label or several labels to a message. They're located on the left side of the Mail window and can be easily searched. Colorful labels are great for quick visual identification.
To create a label, select or open any message and click the Labels icon, then Manage Labels. You can choose from the list or create your own.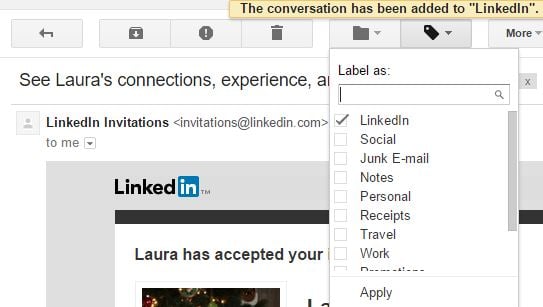 I encourage you to star messages, create filters and labels and play around with what works best for you and your workflow. Again, you can apply meaningful colors to the labels, even create nested labels (almost like a subfolder).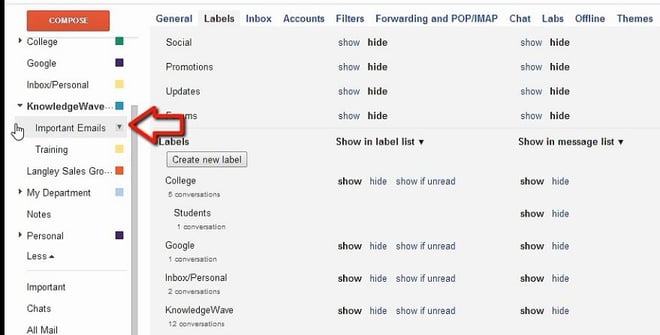 You could also download the
Inbox by Gmail app
for your mobile device. It's an organization tool with a modern look and feel. It has features like
Bundles
which groups related emails together in your inbox. An example would be something like promotional emails all grouping together in a collapsible bundle. Bundles will also combine the filters and labels that I mentioned. You can even create your own bundles!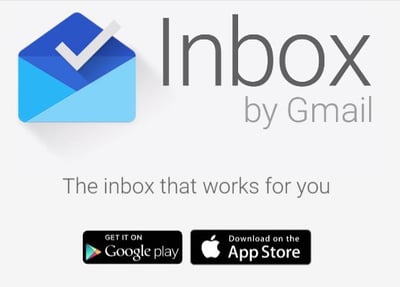 It is also available on the web at
inbox.google.com
. You'll need to activate Inbox on your mobile device first.

Everything that I've mentioned allows you to do one of the things that Google does best….searching! Once you begin to tame the beast, the quickest and easiest way to find messages is to search.

My favorite is to use operators such as:

from:
to:
subject:
has:attachment
is:starred
Or pretty much anything you can imagine! Give it a try.

There you go. I hope that this gets you thinking about how to organize that Gmail inbox. Happy organizing!
Want training and more great tips on using Gmail?
Our video library provides training on most popular business software, including Google apps. You can
check it out absolutely free
for 30 days, risk-free. No credit card required.