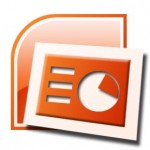 Have you ever gotten lost in your own presentation?
PowerPoint 2010 has a new Sections feature that helps organize slides, similar to how folders organize the files you use. By using sections you can keep your slides in logical groups. Furthermore, the function makes a useful outlining tool at the point of creating your presentation.
To add a section go to the ribbon and click "Add Section". Once the section is created right click on section label and select "Rename Section".
Once your sections are created you can expand and collapse them as needed, apply themes to a section, print a section and drag and drop sections to change the order of your presentation.