Virtual training uses technology to automate or virtualize some aspect of a training initiative, and it has enormous potential for most organizations. Even if you've embraced virtual training as an initiative for your employees, however, it can be tricky to know where to start. For example, you may not even realize that there are scalable, cost-effective solutions that are easy to implement without having to spend a huge amount of time on their creation.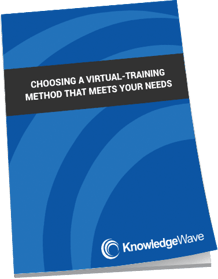 It's with this mindset that we crafted our eBook: Choosing a Virtual-Training Method that Meets Your Needs. Our goal is to identify the most effective types of virtual training that exist and weigh their benefits so you can choose what's best for your workplace. We delve into four, namely:
Video training
Live webinars
Remote classes
Custom modules
To learn more about virtual training, download the eBook by filling out the form to the right!