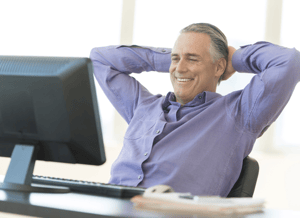 Microsoft Office and Office 365 have so much available that users can't learn it all at once. Ongoing training is key.
Some employees do better with a set date and time, so we offer live webinars at specific times. KnowledgeWave training packages include:
5-8 LIVE events each month
Current, relevant, rotating topics
Perfect for frequently changing software like Office 365
Upcoming Webinars
Use the form on the right to sign up

Microsoft Planner: A Handy Way to Organize Your Team's Tasks
10/18/19 at 10 am (EDT) | 30 min
Skill Level: Beginner. By the end of this webinar, you'll be ready to get started with Microsoft Planner! This app provides an intuitive and visual way to organize your team's work. Think of it as a light, online project management tool that's built right into Office 365. We'll begin with a quick tour of the interface, then create a Plan and explore Boards, Buckets, and Charts.
Improve Your Communication Skills Through Better Business Writing
10/23/19 at 1 pm (EDT) | 30 min
Communications with clients and colleagues can always be improved. This webinar will help you with your communication challenges by improving your business writing skills. You will learn everything from basic grammar and punctuation to writing email messages that will evoke the responses you need for your success.
Office 365: The First Time User
10/29/19 at 3 pm (EDT) | 30 min
Skill Level: Beginner. The move to the cloud presents new modern ways for us to work. In this session you'll learn what you can do after logging into Office 365. Learn how to launch a web app and find, store, and work with your OneDrive for Business and SharePoint and Microsoft Teams cloud-based documents. Office 365 Adoption starts here.
Use the form on the right to sign up

Manage Office Politics to Bring Teams Together
11/5/19 at 3 pm (EST) | 30 min
It is important for leaders to learn and understand the office environment and the employees that make it tick. In this webinar, learn how to effectively work with colleagues, supervisors, and upper management in order to help keep the department functioning.
Office 365: The Newest Features
11/12/19 at 1 pm (EST) | 30 min
Skill Level: Intermediate. We want to show you some of the best new features released in the past few quarters. Office 365 is regularly updated, often with little fanfare. Handy features can sometimes sneak in without you even knowing about them! This webinar will help you keep current. This webinar is for people who are already familiar with the basics of the Microsoft Office 365 suite.
SharePoint Lists vs. Excel Spreadsheets: An Honest Comparison
11/14/19 at 10 am (EST) | 30 min
Skill Level: Intermediate. This session will cover the pros and cons of using SharePoint lists instead of Excel spreadsheets so that you're empowered to make your own tool decisions on a case-by-case basis. You may find in some cases that Excel is still the best tool for your purpose and that's perfectly fine. This session's intention is to give you an idea of when SharePoint may prove more useful.
Use the form on the right to sign up

Microsoft Excel Custom Number Formats
11/19/19 at 3 pm (EST) | 30 min
Skill Level: Beginner. In this 30-minute webinar, we'll explore creating custom number formats. Typically, we find ourselves using and or struggling with the different built-in choices. Custom-made formats will allow you to easily enter your data and have it look the way you want with a simple one-time setup! From ZIP codes to custom inventory items, we'll show you how!
Using Microsoft Outlook Online
11/25/19 at 3 pm (EST) | 30 min
When you are on a business trip or any other reason you are away from your Outlook desktop app, you can have secure quick access to your email, calendar, and contacts from any computer with Internet connectivity. This webinar will show you how to access Outlook Online using your Office 365 account or the Outlook.com web portal. We'll navigate Outlook Online and preview Outlook for Mobile.
Use the form on the right to sign up

To register: fill out the form at the top of this page or call
1-800-831-8449