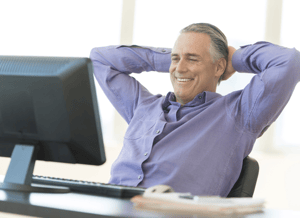 Microsoft Office and Office 365 have so much available that users can't learn it all at once. And because some employees have better training success when there is a set date and time, KnowledgeWave offers some webinars at specific times and dates as part of its valuable training package:
5-8 LIVE events each month
Current, relevant, rotating topics
Perfect for frequently changing software like Office 365
Upcoming Webinars
Use the form on the right to sign up

How to Use Microsoft Teams for Communication and Collaboration
8/16/2019 at 10 AM (EDT) | 30 min
Skill Level: Beginner. With Office 365, the way we work is changing. Learn how to use Microsoft Teams, which provides a modern chat-like conversation experience for today's workers who need to share a digital workspace. It's a hub for your team to work together, making it easy to communicate, share documents and files, and hold meetings.
7 Key Skills for Top-Notch Customer Service
8/21/2019 at 1 PM (EDT) | 30 min
Skill Level: Beginner. This Customer Service webinar will look at all types of customers and consider how we can serve them better and improve ourselves in the process. We will discuss key skills including in-person and over the phone techniques, dealing with difficult customers, and generating return business.
Time-Saving Tips for Outlook Email
8/23/2019 at 10 AM (EDT) | 30 min
Skill Level: Beginner. Shave time off your email management every day! We will show you tips for organizing your incoming mail, and shortcuts to speed up your outgoing mail. Learn to use folders, categories, flags, quick steps and templates to your advantage.
Meet Microsoft To-Do: A Handy Task List for Microsoft Office Users
8/29/2019 at 1 PM (EDT) | 30 min
Skill Level: Beginner. To-Do is a task list that helps you manage and prioritize your to-do list each day. Learn why this simple tool has fast become a crowd favorite. It is included with Office 365, it integrates with Outlook and syncs across your devices.
Use the form on the right to sign up

To register: fill out the form at the top of this page or call
1-800-831-8449