Having well-trained, productive employees on staff is the dream of every organization. In order to meet that goal, you must be willing to invest in your employees, so in turn they will invest themselves in you and your organization. If you're lacking an employee training strategy, however, you may have found that your employees are lacking the adequate resources they need in order to contribute to your organization's competitive advantage.
To shed light on this subject and bring a solution to the table, we created our complimentary eBook, Skills Training in a Box—How to Implement Training Successfully. In it we introduce the importance of investing in employee development and describe how to find a program that best suits your needs.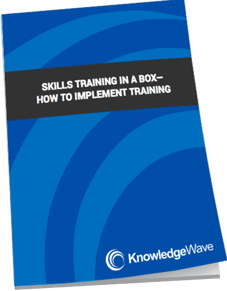 Plus, you will learn:
The advantages associated with employee training
How you can improve workplace effectiveness and software proficiency
The benefits of KnowledgeWave's virtual-training services for driving return on your investment
To learn more about investing in employee growth through effective training methods, download our eBook by filling out the form to the right!