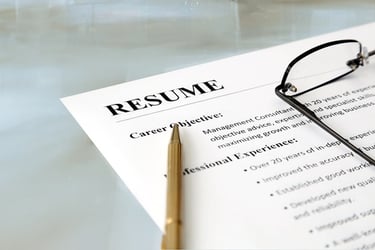 Making the decision to scale your business is a good thing, as it typically means you are experiencing some sort of sustainable growth. If you're thinking scaling and growth go hand-in-hand, Les McKeown—in a contribution to Inc.—states otherwise: "It's one thing to grow your business (and a lovely thing it is, too)—but it's another entirely to scale it. Scaling—the ability to grow rapidly and at a compound rate, compared to the arithmetical, two-plus-two-equals-four rate of growth that non-scaling businesses achieve—requires new skills from the business' owners and managers."
In order to scale effectively in a time of growth, you must first decide between hiring new employees to alleviate some of the responsibility on your current team members, or make the most of the resources available, without burning out your existing employees.
What you need to know and consider before hiring new employees
1. What do you hope to accomplish with your new hire?
In this time of growth you're likely to experience a vast amount of responsibility. While you of course want to alleviate your workload and get more of your time back to improve your strategic advantage, you have to ask yourself what you're ultimately hoping to accomplish with hiring.
Are you in need of an assistant to manage the administrative aspect of your organization? Or perhaps you need a well-versed professional that can contribute to your sales lead-generation strategy. Before you start the talent-acquisition process, establish your goals and objectives for hiring.
2. Know what you can and can't afford
If you're looking to locate and retain the top talent, you often need to offer more than just a competitive salary. In fact, you may be responsible for providing medical insurance, paying state and federal unemployment taxes and more. While it's certainly not required, many established professionals look for companies that offer retirement plans and paid time off including vacation, holidays and family and sick leave.
3. Is there a way to fill the void using existing resources?
Before you start writing job descriptions and creating opportunities, ask yourself and other members of your team if there is any way to rework existing positions, or get them the skill sets needed in order to fill the void.
There are a variety of different ways you can help your existing employees gain the skills they need to enhance the value of your growing organization. This may include using the talent you have in-house to develop a mentoring program—so they can cross-train and learn from each other—or utilizing training videos and live webinars that employees can watch at their desks.
If your existing resources don't suffice, however, think strategically when looking for candidates. Ultimately, you want to recruit, hire and retain candidates that can enhance the value of your products and services. In other words, if you're lacking skills and knowledge in human resources, but you're strategic and knowledgeable in marketing and sales, fill the void with a candidate in HR.
4. Check references, thoroughly
Say, for example, one of your candidates states that he or she has experience as an HR professional. The truth is you can't be certain unless you check references and review certifications thoroughly. It also may be beneficial to weave questions associated with real-world experience into the interview to test his or her knowledge of the position through subtle means. Think of it this way, in order to scale effectively in a time of growth, you can't risk bringing on a staff member that doesn't have the skills he or she claims, especially when you need this specific industry experience to alleviate workloads and scale your business.
On the other end of the spectrum, if you decide that you will rework existing positions, invest in your current team members and promote from within. You can rest easy as your currently employees are known assets. This, of course, takes a majority of the risk away from hiring, as you're already familiar with their work ethics.
5. Do you need a full-time employee, or can you acquire a freelancer?
If you're considering hiring, you may find yourself at a crossroads between hiring a full-time employee or hiring a freelancer. The benefits of a freelancer are clear cut for small businesses with limited resources and a smaller budget, as he or she is typically not eligible for benefits that can be expensive. Employers can also determine what they really want in an employee by testing the waters with a freelancer.
If you're not already familiar with locating quality freelancers, there are websites and services designed to help employers identify experienced freelancers with the skills they need to enhance their businesses. CrowdSpring, for example, is an online marketplace that can put you in touch with creative freelancers.
Finally, you should know that while freelancers are often a great option—especially for a small business—for some companies nothing beats a full-time employee. With a full-time employee, you'll have a resource on-hand to contribute to your competitive advantage.
Now that you have the information you need to scale your business, who is responsible for helping your new and existing employees learn new skills? Check out this post.