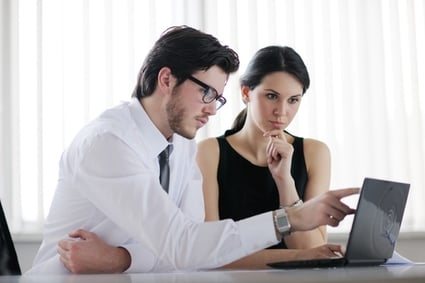 If your organization's human resources department and managers are onboarding new employees at a rapid rate, it can only mean one thing: You're growing, and that's a good thing. On the other side of the spectrum, if you lack the resources your new hires need to settle into their roles, they may become self-reliant, which isn't always a good thing. So how do you achieve the former, and provide your employees with proper training? And who should take responsibility of onboarding your new employees?
Your employees need to learn new skills if you want your organization to grow
While large organizations typically have a sizable onboarding and training budget, small businesses usually do not. So who should take the role of helping new employees develop the skills they need to succeed? According to Ruth Mayhew in a contribution to Chron, "...human resources and line managers should work together because both parties have a vested interest in ensuring the company achieves success. Through working together, line management becomes more proficient in tactical human resources functions. This frees up time for human resources professionals to devote more time to strategic HR management." By divvying up responsibilities, both teams will have more time to dedicate to their roles, instead of focusing all of their time on onboarding and development. Strategic planning of employee onboarding and business-skills training also ensures consistency.
If you find that this approach may be more feasible once your organization has grown further, there are a number of different methods you can take to onboard and train your new employees right now. Use the talent you have in house to develop a mentoring program or utilize training videos and live webinars that employees can watch at their desks. Let's take a look at a couple of training methods that will help your new employees' develop the skills they need:
Virtual training
Give your team the tools it needs to learn on its own with virtual training methods. Virtual training uses technology to automate or virtualize some aspect of a training initiative, and it has enormous potential for most organizations. While traditional training can be very effective when a hands-on element is required, from a cost standpoint, virtual training can save your company significant funds. No matter the type you determine to be best for your learners, virtual training has clear strengths and advantages. Here's a list of options that deliver the benefits we listed above:
Video training
Live webinars
Remote classes
Custom modules
Want to free up your time? Empower your employees to take the lead
"An employee who clearly understands the core values, purpose and direction of the company can easily make consistent decisions and take appropriate action at any junction," writes Kevin Daum in a contribution to Inc. "It's on you as the leader to impart your vision. That's how you lead." Without clear direction, your employees simply can't succeed.
Daum continues: "People who don't know what they are supposed to do can't do it very well. Additionally, they need to know their boundaries so they don't step on others' toes or create inefficiency through redundancy." Put simply, sometimes all you need to do is open up the conversation with management to see what each department needs to become more efficient and productive.
With the information you gather from each manager, you can then identify the skills your new hires need to maintain peak performance and tailor a training program around that. Frankly, your employees can't succeed if they don't know what void they need to fill. When you establish clear roles and assign achievable tasks, however, you can empower each one of your employees to take the initiative to grow within the department and, ultimately, the company.