Here at KnowledgeWave, we take pride in 2 key distinctions that really set us apart: our blended approach which combines video training with live online instruction, and our ROI calculator.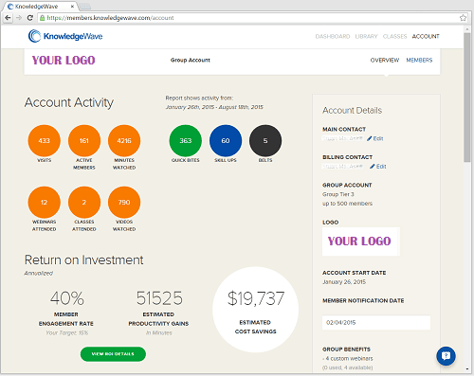 As part of the KnowledgeWave Learning Site (KLS) we developed an ROI calculator that takes into account our clients' input to create a realistic view of their online training ROI. Although not all organizations track the results of their training investments, we believe this is a useful metric. Our goal is to make it effortless for you to evaluate the success of your KLS membership and report to higher-ups.
When we partner with organizations that value continuous growth and learning, we often see their return on annual investment recaptured in a matter of months. This chart shows annual ROI for a number of actual clients.
| Industry | # of Users | Annual ROI as of Q2 2017 | ROI Compared to Cost |
| --- | --- | --- | --- |
| Finance/Banking | 189 | $39,001 | 7.9x annual investment |
| Government | 9165 | $584,468 | 23.9x annual investment |
| Healthcare | 18 | $6,482 | 4.3x annual investment |
| Higher Education | 984 | $33,041 | 6.7x annual investment |
| Insurance | 270 | $30,508 | 8.7x annual investment |
| Manufacturing | 20 | $6,951 | 4.6x annual investment |
| Services | 874 | $35,371 | 10.1x annual investment |
For the purposes of publication, we've made these results anonymous by industry. But all of these represented clients would be happy to serve as a reference for KnowledgeWave. If you wish to connect with any of our other clients, please contact us and we will gladly coordinate an introduction for you.
These are realistic, achievable results, and we can help you get there. Our Customer Success folks will coach you throughout the year to take simple steps that will help your team get good value out of KLS. As we've written before, investing in your employees through training is really an investment in your organization's overall success. We would love the opportunity to be your training partner as you build and develop your team.
If you are interested in learning more about our ROI calculator, please request a demo. One of our training specialists will walk you through all of the account admin features.
If you are interested in learning more about our blended approach, we invite you to check out our free trial.