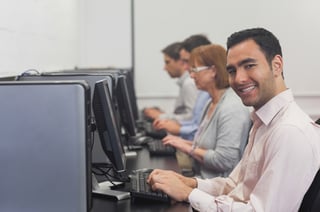 Ever find yourself in need of a classroom with a projector and a bunch of computers? Consider renting one of our classrooms for your next training event in the Burlington, Vermont area.
Room rentals in the Burlington, Vermont area
Our South Burlington, VT location has a number of classrooms that can meet your needs. Our largest room has 16 student workstations in addition to the instructor's computer, which is hooked up to a projector. We can also squeeze in a few more participants with laptops as needed. The workstations can be configured to run either Windows 7 or Windows 10 and whatever software you need; please call 1-800-831-8449 for additional technical details.
We are located at 30 Community Drive, Suite 5, in South Burlington, VT.
Perfect for software training and other training, too
Some of our clients like to use the space for non-technical training, too. You can't go wrong with our spacious rooms, plentiful parking, accessible location, plus coffee and snacks.
Include your remote participants
We have the equipment and experience to help you bring in remote participants, too. You can get maximum value from your training efforts and expenses when you include remote students through online conferencing such as WebEx or GoToMeeting.
Call for pricing: 1-800-831-8449
For pricing on our room rentals in Chittenden County, Vermont, please call 1-800-831-8449 or email us at education@knowledgewave.com. Members of the KnowledgeWave Learning Site receive a discount.