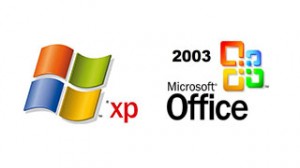 Microsoft has set the end of life for Microsoft XP and Office 2003 for April 8th, 2014. End of Life has lots of meanings, in tech talk, it means support and updates are going away. There's no more support or lifelines. Phoning a friend is almost as useless as calling a support line. No more security patches or bug fixes. The countdown is on. Come April 8th, 2014 other vendors will likely discontinue supporting the XP operating systems on new releases of their software too. The end date is near, but the world isn't coming to end. Let KnowledgeWave and Log on to Learn help you.
We know that change can be tough, Windows XP was a great OS, but it's time to move on. Whether we like it or not. KnowledgeWave is here to help you and your business with the change and your migration to Windows 7 or Windows 8 and or Office 2010, Office 2013 or Office 365.
This March attend any Window 7 or Windows 8 Technical class and choose one of these great offers!
Take 25% off your Technical Class Rate.
Get 1 Free Day of Desktop training in a group setting for your staff.
Get 5 Free 1-day desktop vouchers to attend classes at KnowledgeWave.
Add a year of our affordable Log on to Learn service for your business and get 25% off and one of the two other offers!
Contact KnowledgeWave at 800-831-8449 for more details.
Eligible Courses:
Windows 7
MS 6292 Installing and Configuring Windows 7 Client
Start Dates: 3/3, 3/17, 3/17 or 3/31
MS 6293 Troubleshooting and Supporting Windows 7 in the Enterprise
Start Dates 3/10 or 3/24
MS 50331 Windows 7: Enterprise Desktop Support Technician
Start Dates 3/10 or 3/24
Windows 8
MS 20687 Configuring Windows 8
Start Dates: 3/10, 3/17 or 3/31
MS 20688 Managing and Maintaining Windows 8
Start Dates: 3/17
*Offer valid for February or March Windows 7 and 8 courses. You must attend and pay for your technical class before April 8th, 2014.