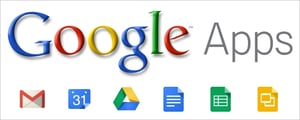 In this introductory webinar, you'll receive a tour of the user interface and the many Google Apps for Work offerings. Our goal is to help you better understand how using Google Apps will streamline your workflow. Users will learn about this all-in-one suite to communicate, store and create. We'll dive into communication tools like Gmail, Hangouts and Calendar. You'll gain a better understanding of the cloud-based storage solution called Drive and collaborate with Apps like Docs, Sheets and Slides.

We'll discuss a few of the top reasons to use Google Apps for Work such as the consistent user experience on your phone, tablet and computer. The Google Admin console allows for the Google Admin to keep data safe, protected and centralized. Also, team collaboration and productivity is incredibly easy and requires very few steps!

This is a past webinar event that is now available as a recording with a 14-day KnowledgeWave Free Trial.