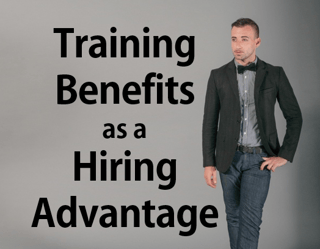 Hopefully your organization has a great employee training program in place for all the right reasons: you are improving business outcomes, intentionally building a culture of continuous learning, and increasing employee satisfaction. On top of all that, as an added bonus, you can use your training benefits as an advantage for recruiting and hiring top talent.
Experts agree that employer branding is becoming strategically more important. And your organization's commitment to employee training and development can be an important part of your employer brand, and a valuable asset in the war for talent.
How can you share training benefits?
Job candidates want a glimpse of your culture
If you are investing in your employees through training, that's an important aspect of your culture, and you want candidates to pick up on it. An Accenture survey found that only 21% of U.S. employees had received any employer-provided formal training in the past five years. If you can beat that, then you are ahead of the curve and it's worth highlighting in your recruiting materials.
Potential hires are hungry for training
In a recent survey, Millennials cited lack of company support for training and development as the #1 most surprising aspect of work in the real world. More than one third of American workers are Millennials, and this generation now represents the largest share of the American workforce, according to Pew Research Center. So promoting your commitment to training and professional development is going to appeal to a large majority of potential hires out there.
Include your training philosophy in your employer brand
Make sure that your commitment to employee training is well articulated within your recruiting message. Whether this is published through a web site, or a PDF, or a packet that you give out at job fairs, include a nice statement about your organization's approach to professional development. Be clear about your willingness to invest in your employees, and outline how this benefits both the individual employee and the organization.
You might want to consider getting some quotes from current employees specifically related to the training they have received and how it has positively impacted them. Real quotes help build trust. Make sure they are in the words of the employee and that they don't sound like marketing headlines.
"People are far more likely to trust a company based on what its employees have to say than on its recruitment advertising. This means that talent attraction relies far more heavily on employee engagement and advocacy," writes Richard Mosley in this article for HBR. With this in mind, you can explain to your employees that their good opinions are useful to the organization. If team members want to contribute to the overall company culture, and more specifically to the employer brand, suggest that they can usefully advocate for the organization on social channels, and provide them with a framework for doing so.
If you are looking for more ways to build your corporate learning culture check out our eBook Skills Training in a Box - How to Implement Training Successfully. We go over some easy-to-implement ways to invest in your team through software training. Go for the low-hanging fruit first, right?!?