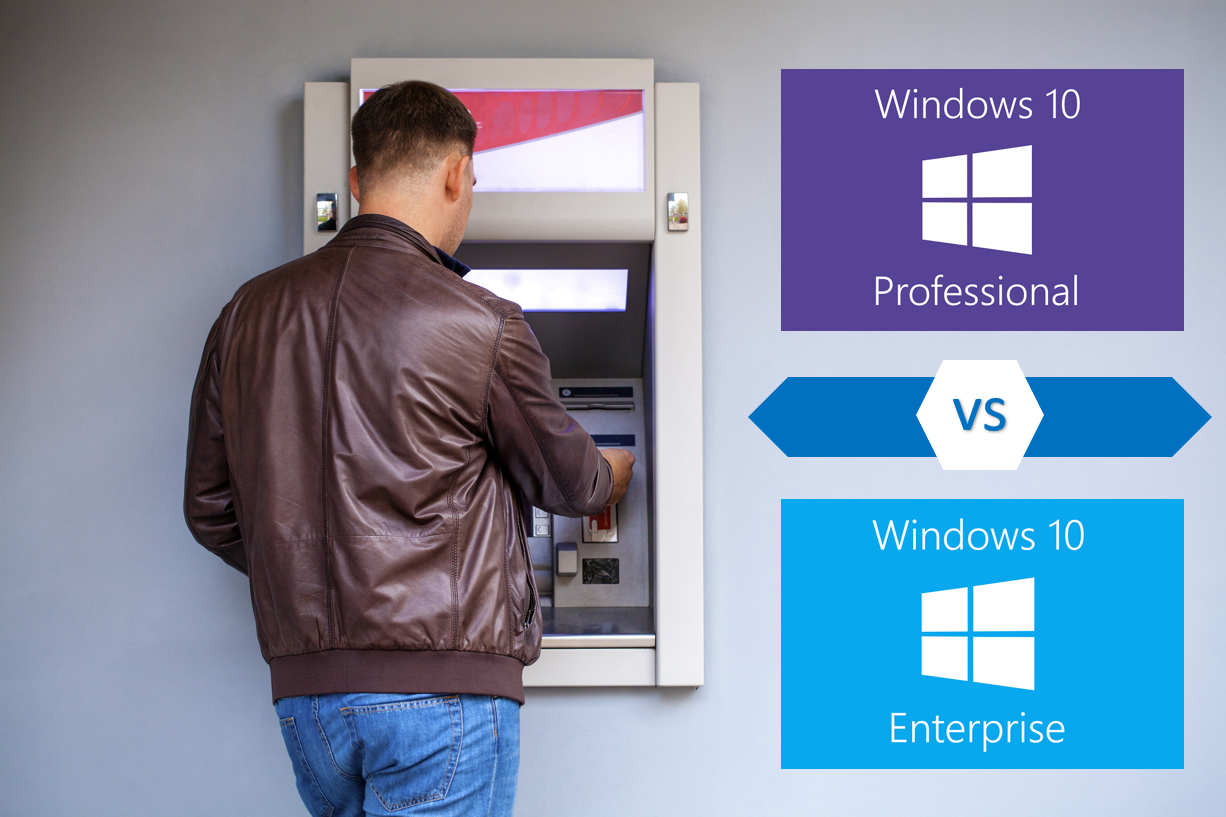 As a financial institution, you have immense responsibilities with regard to customer privacy. Your customers trust you with their most sensitive financial information. Using the wrong Windows OS could compromise this trust and expose sensitive information. However, knowing which operating system to choose can be a challenge with all the options available – should you choose Windows 10 Pro or Enterprise? Here are a few pros and cons of each version to help you make the right choice for your banking company:
The Pros and Cons of Windows 10 Pro for Banking Companies
Microsoft built Windows 10 Pro for companies with a limited or nonexistent tech support department. As a result, Microsoft designed the security management that exists within Windows 10 Pro to be simple and easy. Business professionals with limited tech expertise should not have any issues navigating the system, but it works best for small businesses and companies that do not need stringent security requirements.
Some of the pros of Windows 10 Pro include:
Built-in Windows Autopilot to help deploy new devices to different people in the organization
Windows Autopilot Reset to help reset devices remotely for security purposes
Automated updates and simple use
Simple pricing on a per-user basis
While Windows 10 Pro may be easy-to-use, its security settings are not ideal for banking companies, which need very strict settings.
Some of the cons of Windows 10 Pro include:
Very limited default security settings
Inability to access certain security features, such as creating custom detection alerts or managing security breaches
No Advanced Threat Protection included
The Pros and Cons of Enterprise for Banking Companies
Unlike Windows 10 Pro, Windows 10 Enterprise works best for large and midsize companies (as defined by Microsoft), or small businesses that need intensive security and have a tech support person on staff. For banking companies who need strong security protocols on their side, Enterprise is the best choice.
Some of the pros of Enterprise include:
Lots of security options available to keep company data secure
Unique security features not found in Windows 10 Pro, including Windows Defender Credential Guard, Windows Defender Application Guard and Control, Advanced Threat Protection, Microsoft User Environment Virtualization and Application Virtualization, and Desktop Analytics Device Health
More freedom for IT departments to control security features, such as remotely managing devices and identifying and managing data breaches
The ability to create custom security detection alerts
Enterprise may not be suitable for businesses that do not need as much security. The multiple features may be unnecessarily complex and bulky for smaller businesses. However, banking companies typically require this level of security.
Some of the cons of Enterprise include:
May be difficult to use without a skilled IT department on your side
Unnecessary security features for small businesses without intensive security needs
More complicated pricing on a per-device, per-user basis and a Volume Licensing plan
Still unsure if it's time to upgrade? Speak with a professional to determine which version of Windows 10 would be best for your Bank or Credit Union. Lack of support could affect your business's operations.