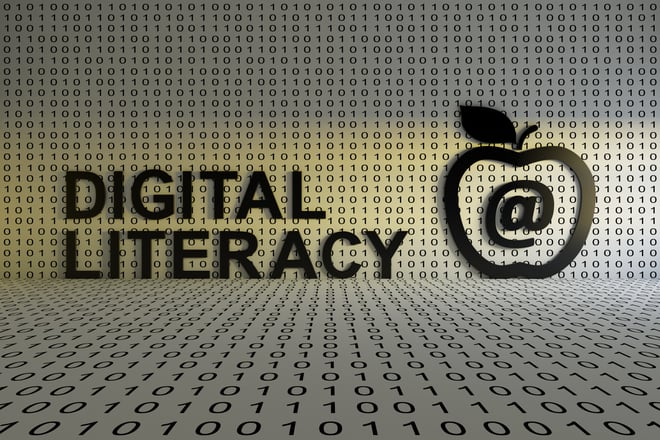 We are Microsoft 365 training experts. We have been training for 20 years since the first version of Microsoft Office was released. What could we possibly have to say about ARPA and SLFRF funds for cities, states, tribes, and towns? Well, it's all about digital literacy. Here's what we've learned...
Quick Overview of ARPA and SLFRF
The Coronavirus State and Local Fiscal Recovery Funds (SLFRF) were set up under ARPA, the American Rescue Plan Act of 2021. The Funds' purpose is "to provide state, local, and Tribal governments with the resources needed to respond to the pandemic and its economic effects and to build a stronger, more equitable economy during the recovery."
The Department of the Treasury issued the rules for how this money can be used. On April 1, 2022, the final rule from the Treasury went into full effect. It provides for a wide range of programs and services as eligible uses of the funds.
The final rule is approximately 400 pages. Lots of rules, but the underlying philosophy is that the funds should be flexible to enable locally appropriate solutions that are tailored to each state, city, county, or tribe's needs.
While the funds can be used for many different types of programs, they must fall under one of the four main statutory categories:
Responding to the public health emergency or its negative economic impacts,
Providing premium pay for essential work during the public health emergency,
Providing government services impacted by lost revenues, or
Necessary investments in water, sewer, or broadband infrastructure.
The final rule outlines a "wide range of programs and services to expand internet access and digital literacy" as eligible uses of the funds under the first category. Digital literacy includes the end user's ability to effectively use and communicate through various digital platforms and software applications. Proficiency with Microsoft 365 falls under digital literacy.
How Cities and Towns Are Using ARPA for Digital Literacy
Because the funds are so flexible for myriad different uses, state and local governments are creating their own processes for determining how to allocate and distribute the funds. It can be difficult to determine how to access them. For example, some local governments issued an open call for applications, while others will distribute funds through existing programs.
We are working with numerous states, cities, and towns to help ensure that their end users are digitally literate with communication tools and skills, especially when it comes to Microsoft 365. Microsoft 365 is loaded with productivity and collaboration features, many of which are useful in everyday situations. Efficiency is critical during public health emergencies such as the recent COVID-19 pandemic.
Without Microsoft 365 training, many users are not in a position to take advantage of the tools and resources that they use every day. Increasing user proficiency with the products and applications that they use on a regular basis is an incredibly important part of an ongoing employee and organizational development plan.
Read more about how you can increase employee productivity in some of our previous blog posts:
About KnowledgeWave
For the past 20 years, KnowledgeWave has been helping companies deploy and adopt the latest business software. We stay up to date with the most recent software features and are constantly adding additional training to our online learning library, the KnowledgeWave Learning Site.
As a Microsoft Partner, we stay on top of all the newest features released within Microsoft Teams and Office 365. We pride ourselves on having helped hundreds of organizations throughout North America deploy business solutions for their organizations.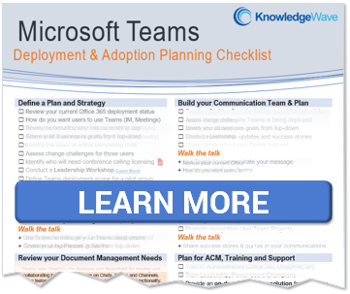 If you are researching, considering, or planning on deploying Teams or Office 365 within your organization, let us help guide you through the process. We offer: