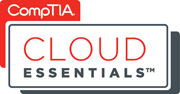 KnowledgeWave is pleased to provide a number of CompTIA courses for IT professionals. The CompTIA Cloud Essentials specialty certification demonstrates that an individual knows what cloud computing means from a business and technical perspective, as well as what is involved in moving to and governing the cloud.
While not required, this course prepares you for the CompTIA's Cloud Essentials exam.
The CompTIA Cloud Essentials exam covers the following:
• Characteristics of cloud services from a business perspective
• Business value of cloud computing
• Technical perspective/cloud types
• Steps to successful adoption
• Impact and changes on IT service management
• Risks and consequences
Complete Course Outline:
Dates: September 6-8, 2017
November 20-22, 2017
December 27-29, 2017
Rate: $1,795
Attend remotely from anywhere in North America
Overview:
Students will weigh the pros and cons of cloud computing to make effective decisions and meet IT challenges.
Who Should Attend:
The CompTIA Cloud Essential Specialty certification is relevant to IT specialists, IT technical services specialists, IT relationship managers, IT architects, consultants, business and IT management, business process owners, and analysts.
Lesson 1: Introduction to Cloud Computing
Overview of Cloud Computing
Evolution of the Cloud
Specialized Cloud Services
Lesson 2: Business Value of Cloud Computing
Business Need for Cloud Computing
Cloud Scalability
Cloud Security
Impact of Cloud Computing on Business
Lesson 3: Technical Perspectives of Cloud Computing
The Cloud Deployment Models
Network Requirements for Cloud Deployment
Automation and Self-Service in Cloud Computing
Federated Cloud Services
Standardization
Lesson 4: Technical Challenges of Cloud Computing
Cloud Storage
Application Performance
Data Integration
Security Risks and Mitigation
Application Architecture and the Development Process
Lesson 5: Steps to Successful Adoption of Cloud Services
Steps to Adopting Cloud Services
Organizational Capability to Adopt Cloud Services
Cloud Vendor Roles and Capabilities
Migrating Applications to the Cloud
Lesson 6: ITIL and Cloud Computing
Overview of ITIL
Planning Service Strategy
Designing Cloud Service
Transitioning to Live Environment
Running a Cloud Service Operation
Continual Service Improvement with Cloud
Lesson 7: Identifying Risks and Consequences
Organizational Risks
Technical Risks
Legal Risks
Cost Evaluation for Cloud Computing
Identify Maintenance Aspects of Strategic Flexibility