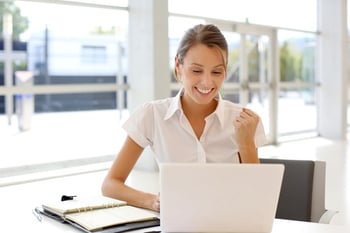 In an article featured in Inc. entitled "7 Ways to Improve Employee Satisfaction," April Shetrone writes: "Employee attitudes typically reflect the moral[e] of the company. In areas of customer service and sales, happy employees are extremely important because they represent the company to the public. Satisfaction, however, is not linked solely to compensation. Sure, a raise or benefits will probably improve employee contentment, at least temporarily, but small, inexpensive changes can have a long-term impact."
Customized training can be a simple solution. It provides new and existing employees with a unique opportunity to develop their industry knowledge and skills to contribute to company growth more effectively. One of the most appealing aspects of customized training is that unlike many software programs that cover a vast amount of tasks, some of which are not applicable, customized training allows you to focus solely on the information from which your employees will benefit. By homing in on the resources that your employees need, you will ultimately set them up for success at a much faster rate, so they can get back to contributing to your company.
Customized training increases engagement and employee satisfaction
Despite its worth, customized training is still commonly underutilized, yet widely desired. According to a survey CareerBuilder conducted of more than 3,900 full-time U.S. employees on morale and job satisfaction, 35 percent of participants reported that increased training and learning opportunities enticed them to stay with the company. While this is an obvious perk for employees, development programs can also positively impact the organization as a whole. When you take the time to provide your employees with more tools, for example, you're also enabling their initiative to take on more responsibility and devote time and energy to your company's innovative efforts.
A simple way to accomplish this is to treat customized training as a mutually beneficial company perk rather than a basic practice. Per Training magazine: "By investing the appropriate training in an employee, they will develop a greater sense of self-worth as they become more valuable to the company. The company, too, will gain specific benefits from training and developing its workers, including increased productivity, reduced employee turnover, and decreased need for constant supervision." While it's true that a majority of your staff will develop greater skills through the process of performing their job functions, training equips employees to contribute to business operations and strategy. Plus, it's an opportunity for you, the employer, to prove that you're invested in employee growth. In turn, your employees will feel more fulfilled in their work environment.
Track engagement and job satisfaction
Once you have implemented a customized training program, don't just let it run its course. This is your opportunity to put data behind the implementation and ensure that your employees are truly satisfied. From this information you can make any necessary adjustments and improvements to reduce employee turnover and improve company morale. Access your real-time analytics—if you're using a virtual training method. From there you can pull data for calculating your ROI.
Want to learn more about the different types of virtual training available and how you can integrate them into your current learning opportunities? Download our complimentary eBook, "Choosing a Virtual-Training Method that Meets Your Needs."