How do you enter the same text repeatedly in a Word document? You can easily insert blocks of preformatted text using what is called AutoText, or what is sometimes referred to as Quick Parts. Check out the quick and easy way to create AutoText entries by adding selected text to the AutoText gallery. This is an awesome feature that allows you to drop in common text and saves you time by not having to type it in every time!
First, let's add text to the AutoText gallery:
1. In your document, select the text that you want to add to your gallery of AutoText entries.


2. On the Insert tab, in the Text group click Quick Parts. Point to AutoText and then click Save Selection to AutoText Gallery from the jump list.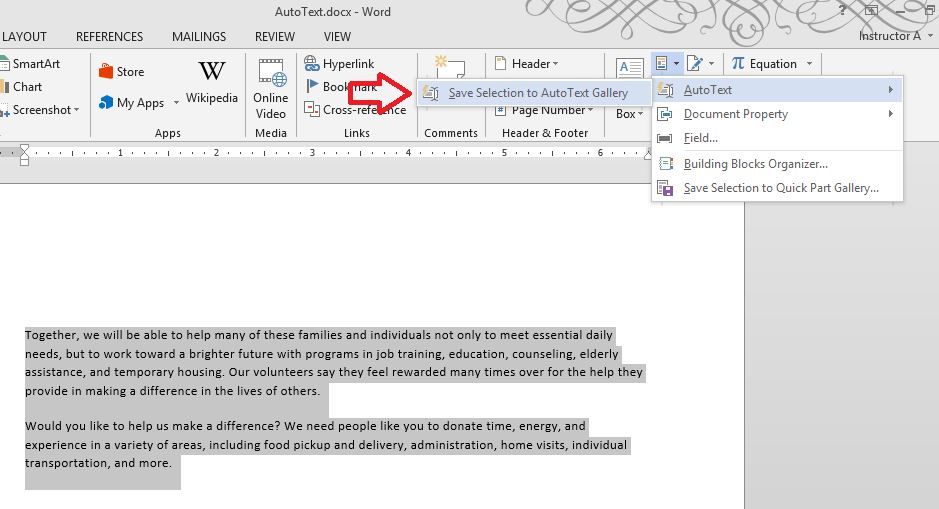 3. AutoText entries are stored in Word as what are called Building Blocks. Enter your AutoText information in the Create New Building Block dialog box. Enter the name of the Building Block. You will have additional options such as Gallery, Category, Description, where to save it, and Options like Insert content only, Insert content in its own paragraph and Insert content on its own page.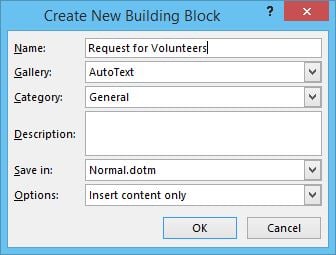 Now, let's enter the saved text to the document using AutoText:
4. On the Insert tab, click on Quick Parts then AutoText. Now the gallery is populated with the text that we selected called "Request for Volunteers".

5. By right-clicking on the AutoText Gallery, you will see lots of choices. Choices include where in the document to insert your AutoText, an Edit Properties choice, Organize and Delete, as well as Add Gallery to Quick Access Toolbar.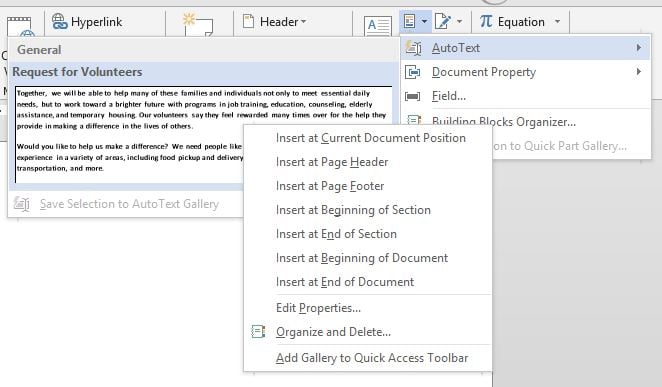 6. Adding the AutoText Gallery to the Quick Access Toolbar is the quickest and easiest way to automatically insert text into a Word document. All you have to do is click on the Quick Access Toolbar button and choose your text from the dropdown. It is that easy!

Like this step-by-step tutorial? We've got a great video, 10 Supremely Useful Features in MS Word. Watch the video to see this step-by-step in action and get 9 other great tips too!