Working with a touch-screen device can present a challenge when working with the Ribbon in Microsoft Office Applications. You may wonder how to enable Touch Mode in Word, for example. Can you make the buttons bigger? Absolutely. You can create more open space on the Ribbon so commands are easier to tap.
To view the Ribbon in Touch Mode:
1. Click on the drop-down arrow on the right side of the Quick Access Toolbar and select Touch/Mouse Mode from the list.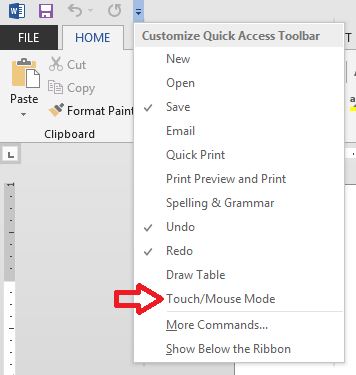 2. The Touch/Mouse Mode command will appear on the Quick Access Toolbar. Enable or Disable by clicking or tapping the Touch/Mouse Mode command, then select Touch or back to Mouse from the drop-down menu.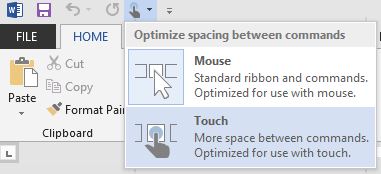 Touch Mode vs. Mouse Mode:
Here is an example of Touch Mode. The Ribbon expands allowing for easier tapping on your touch-screen.
Here is an example of Mouse Mode. The Ribbon is at default settings and you can easily toggle back and forth with this command on the Quick Access Toolbar.

Like this step-by-step tutorial? We've got a great video, 10 Supremely Useful Features in MS Word. Watch the video to see this step-by-step in action and get 9 other great tips too!