Gain control of editing your Word documents with some quick methods of selecting text that you may have never knew existed. Many of us have certain ways that we are accustomed to when selecting text, paragraphs and lines. What are some easy ways to select text in Word? Use both keyboard shortcuts and your mouse to speed up this common task!
1. Probably the most intuitive and common way to select text is to click and drag the mouse.
2. Instead, click in the margin and drag down while holding the left mouse button.

3. To select one character at a time or blocks of text, click at the beginning of the area you want to select and hold down the Shift key. Press the right or left arrow keys or the up and down arrow keys.

4. To select a single word, double-click it.

5. To select an entire line, move the cursor into the left margin. When you see the pointer turn into an arrow, click.

6. To select a sentence, hold down the Ctrl key and click any place within the sentence.

7. To select a block of text or a paragraph, click at one end of the block. Then, hold down the Shift key and click a second time at the opposite end of the block. You can also select and entire paragraph by triple clicking either the paragraph itself or from the margin by double-clicking the left mouse button.

8. While holding down the Alt key click in any direction to select areas of text.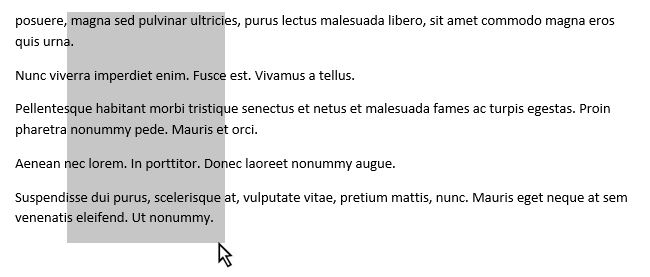 9. To select noncontiguous blocks of text or words, double-click on word or select a section of text then hold down Ctrl key. You can then select other areas by double-clicking or dragging, as long as the Ctrl key is pressed.

There is always more than one way to do the same thing. We encourage you to try some of these methods of text selection and see what you like best!
Like this step-by-step tutorial? We've got a great video, 10 Supremely Useful Features in MS Word. Watch the video to see this step-by-step in action and get 9 other great tips too!