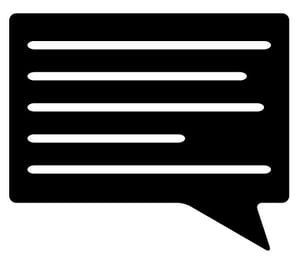 In today's age of technology, there are virtually no limits when it comes to collaboration and communication tools. Despite this, however, communication can still get lost in translation. As a result, organizations are experiencing a lag in productivity and a delay in meeting deadlines among teams. While streamlining internal communication is often easier said than done, opening the lines of communication can ultimately help build stronger teams and improve your company as a whole.
If you have noticed a large amount of time wasted trying to process and understand the many different types and sources of communication taking place in your organization, you're not alone. Think of it this way, if you have more than one communication or collaboration tool that you're using to manage projects, you may have a few frustrated employees among your organization. While these tools are intended to simplify our lives, it's likely that a majority of your employees are having a difficult time finding the information they need in order to deliver quality work. And if they're operating on multiple platforms that ultimately serve the same purpose, can you really blame them?
Emphasizing the importance of employee communications
Encourage management to set a clear example for each team and communicate with employees of all levels. In an article entitled "Top Management Practices to Maximize Employee Motivation," the staff at go2HR emphasizes the importance of investing in and sustaining employee engagement: "Treat employees as partners in your business. Ask for their input before making decisions that will affect them, and communicate regularly on business performance. Create an environment of trust and teamwork by encouraging two-way communication."
In doing so, you can see an increase in employee engagement and productivity. At the end of the day, your employees want to be valued. Now that you have opened the lines of communication, look to the tools through which that communication is happening to see where you can maximize their use.
Improving communication between managers and their employees
While it's true that large company announcements and messages from the C-suite often happen through email, two-way communication is just as important. It should be established and developed via in-person or virtual meetings, as you want your employees to feel comfortable approaching you to share their innovative ideas. While a revolving door of communication may not be the most efficient method, especially if it's a daily occurrence, encourage bi-weekly or monthly one-on-ones. Just knowing that the opportunity to share questions, concerns and ideas exists can cause employees to feel more engaged.
To streamline internal communications, the right tools matter. Take SharePoint for example. The cloud-based service, hosted by Microsoft, enables organizations and its employees to share documents and information with each other, customers, partners, etc. Plus, you can customize it to best serve your needs.
Establish one tool for daily communication and one tool for meetings
Your management team and its staff are collaborating on a daily basis, thus your organization must institute a single system of instant communication. Consider establishing one for daily communication and one for meetings.
Take daily communication for example. Whether you choose iMessage, Skype for Business (Lync), or Google Chat, don't forget to have your employees at the top of your mind. If your business uses Android phones or other non-Apple products, for example, you should be weaning people off of iMessage. If everyone's on different types of devices, use a multi-platform tool such as Teamchat or Office 365.
By establishing one tool for daily communication and one tool for meetings, your management team and its staff will experience vast benefits, including the ability to maintain conversations on mobile devices and have them all stored to the same server, so that your employees can reach them easily. It also streamlines the employee onboarding process—you'll only have to introduce one tool to new employees.
How to avoid miscommunication
While effective communication flows two ways, it's also important for your employees to develop professionally. With email, Skype for Business or Google Chat, your employees may get the impression that they can communicate in a casual fashion, which can lead to miscommunication. By verbally encouraging your employees to develop their reading and writing skills, they are less likely to make blunders in external communications, thus boosting the company's image. Thus, writing well can improve your ROI on organizational communications, so don't neglect the important of workplace writing skills with your employees.