How to collaborate with your colleagues
Get a look with our latest member recorded webinar, you'll get an inside look at sharing and collaborating with Office 365 and SharePoint Online. We'll show you a side-by-side view of two users collaborating in a Word document. Watch how changes John Keller makes are tracked and noticed by Samantha as they work and collaborate together within the same Microsoft Word document. Tip: We'll even show you the library settings needed to make this work in your Office 365 | SharePoint Online environment.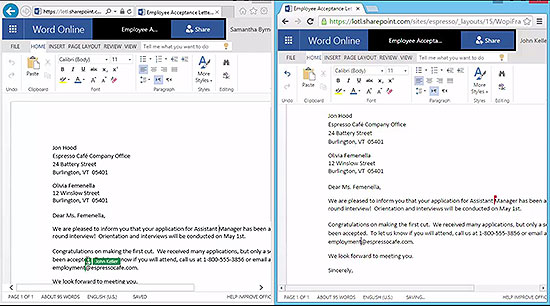 This webinar was run live with a question and answer period for our members. Members attend our webinar events completely free. They can also access a vast library of on-demand video content. KnowledgeWave offers a great Introduction to SharePoint Online series as well as Office Online Application videos.
Our free recording will give you a tour of the user interface and the many Office 365 offerings. Our goal is to help you better understand how using Office 365 and SharePoint Online will streamline your workflow. Watch the video to check out the sharing and collaboration choices within SharePoint and OneDrive and see these features in action. Click the button below.
Learn more