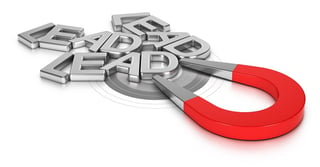 Converting qualified leads into revenue is tough work for any business. To be successful, your organization must convert a reliable volume of leads into sales.
Your funnel may be full, but how many are resulting in revenue, or even the right leads to begin with? Check out our tips for customizing your inbound marketing strategy to attract better leads so you can collect better revenue from them.
Yours may be one of the many MSPs without its own in-house marketing department. Instead, all of the leg work needed to construct your inbound runway comes from you. That's a tremendous amount of extra work and attention you don't really have, yet it's critical if you desire growth.
Any lead that comes in off the street is nice. However, if you're serious about increasing conversions, you need to fine tune the assets you produce to attract client attention. Think about your current lead generation efforts for a moment as you review these musts for any inbound approach.
Develop a thorough content marketing strategy
You've surely heard of the importance of a content marketing strategy. Why? Because it's true and proven to work.
In fact, a whopping 88% of B2B marketers use content marketing in their strategies with measurable results. If an organization's willing to put forth the effort, quality leads will find their way to you.
Know your buyers
Every successful content strategy is built upon bulletproof buyer personas. You not only gain a clearer picture of your best conversion candidates, but you also learn what content and material appeals most, thus maintaining their engagement.
Blogs and social media
Content strategy elements like your blog and social media posts can be tailored for each of your buyer types. If you're short on topics, go back to the personas you wrote. Your research should present a wealth of ideas each buyer type will devour.
Give them content at every stage of their journey
Don't limit your content development to the top of your sales funnel. Content marketing should aid in moving the prospects further downstream through a series of conversions.
A solid content strategy contains at least one piece of premium content (material for which your visitors/leads willingly exchange their name, email, phone number, etc.) for every persona at each stage of your sales cycle. Make the material relevant to: what problems they're likely to research, their buying criteria, and how they'd evaluate their vendor choices.
Conversions should be effortless
Nothing will turn away potential business like a complex form. As you plot out your landing pages and conversion forms, remember the K.I.S.S. approach and make it as easy as possible for your visitors.
That focus on simplicity should be evident throughout your website. After all, it's the backbone of your content strategy. Here are some additional considerations for how your site presents itself to visitors.
It must drive traffic - always
Build paths of interest towards the site and through it for your established buyer personas.
Simple designs win
An efficient, easy to digest site leads to more successes than complex, dense ones.
Limit the jargon
The tech world is chock full of acronyms and geek speak. It all sounds perfectly nice to trained ears, but to outsiders it can be intimidating. Not everyone speaks the same lingo.
"What's in it for me?"
Too often, especially in tech services, it's easy to promote the features of what you offer. And while your service may be outstanding and trusted, it won't be nearly as impactful as showing prospects the benefits of chasing you over a competitor.
Handling MSP Leads
We don't have to tell you how important it is to handle your leads well. One misstep and a hot lead could go cold. Keep these points in mind as you reflect upon your current lead handling methods.
Know when your MQLs become SQLs
At some point in their journey, a lead will start to look very promising. This is when your Marketing Qualified Leads (MQLs) become Sales Qualified Lead (SQLs).
Sadly, there isn't an exact science to determining when this happens. Instead, it's up to you monitor their interactions or engagement to figure out what that tipping point is. And it varies for every organization. An inbound marketing solution—like Hubspot—can help you monitor those interactions and assist in establishing that point of transition.
Don't forget the phone
Email's convenience and non-evasiveness makes it a wonderful communication tool. However, there's something infinitely more impactful about a good old fashion phone call - especially in these digital times. Find a good balance between the two to keep in touch with your MSP leads.
Persistence pays off. Harassment doesn't.
You put a lot of time into talking through the benefits with potential clients. Perhaps you've even sent them a proposal. Then they go quiet. Your call goes unanswered. Your email goes unopened.
Be persistent. Make several attempts to communicate so the lead doesn't go cold. However, don't come on too strongly. Remember, your end goal is a delighted client. They won't feel good about your organization if they feel they've been harassed.
Know when to pull the plug
It's equally important to know when enough is enough. You can only chase an unresponsive lead for so long. After all, your funnel is full of others who may be more willing to talk with you.
Know when to cut the lead loose and focus your energy on those willing to listen. Then set that limit (a max number of call/email attempts) as a standard for your other lead interactions and keep the funnel moving.
Sweeten the deal
An ace up your sleeve – in the form of exclusive discounts, add-on services, etc. – can boost conversions of those potential clients who are still on the fence. Sweeten the pot and tip them towards, "Yes!"
Delight your clients
There's no question that happier clients are likely to spend more on your services. If your content strategy is thorough enough, you'll have planted seeds for potential revenue throughout the buyer's journey.
It may take patience for these opportunities to show themselves, but with time those possibilities will bloom. Additionally, you'll have better-educated customers as a natural byproduct of the relevant information you provided along the way. They could do the leg work for you and beat you to the punch to request additional services without you prompting them.
A delighted customer also become a free advertising source for your organization. Everything you do should be focused on converting potential customers into potential evangelists for the services you provide. That applies to pre-sale leads just as much ones where years passed since their initial purchase.
Every interaction they have with you is an opportunity to thrill them. It's a win-win. You collect revenue from a happy client, then they help fill your funnel while singing your praises.
Leads are the fuel that keep your organization moving forward and growing. Attracting the right ones early on increases your chances of converting more. Not only will they be enticed to move further down the sales funnel, they're likely to spend more with you. And if you're treat them well every step of the way, some of them will even help fill the funnel for free.