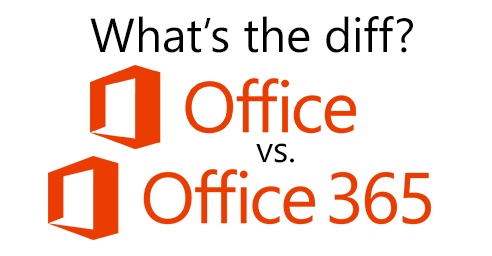 You may ask yourself, "Should I get Office 365 or Office 2013?" "Are Office 365 and Office 2013 different?" "Can I get both Office 365 and Office 2013?" These are great questions to consider and I'd like to clear up a few things, including terminology.
The Office Suite (currently 2013) is locally installed and are applications that you launch from your computer. It's what we've traditionally used for many years. Sure, you can buy Office 2013, for example, all by itself as a standalone piece of software. That's totally fine. These are robust desktop applications that allow us to perform powerful actions. You may find that you have personally switched to Office 365 or that your organization has made a decision to switch to the subscription product called Office 365.
Office 365 is a set of cloud services available on a subscription basis from Microsoft. You can buy the service directly from Microsoft. So, instead of buying the Office Suite one time and then owning that version indefinitely (or at least until it isn't supported anymore), anyone can subscribe to the cloud-based Office 365 suite and pay a monthly/yearly fee. You can use both! Or you can use just one!
There's another piece of the puzzle to understand. Allow me to clarify. Depending on which Office 365 subscription/license you choose, you have the option to download the latest version of the traditional Office Suite. As of now, depending on your subscription, you may have 5 downloads of Office.
Office 365 WITH Office 2013
With the license that allows you to do so, it's a good idea to install the latest version of the "classic" Office. I really like having a locally installed version of Office on my computer, but then have the flexibility to switch to the cloud services that are available, called Office Online. Another awesome feature available when you use Office 365 with Office is the ability to connect the two through the cloud and store and share files from SharePoint or OneDrive. Someone else may like to use just the Office Web Apps, or what is now called Office Online (you'll hear both terms thrown around). This brings us to the next scenario.
Office 365 WITHOUT Office 2013
If you have JUST Office Online versions of the Office products, you'll notice that they are much lighter versions of the "classic" installed applications. They are online, entirely browser based and receive constant updates from Microsoft. They're actually pretty awesome. The fact that you can have anywhere access to Microsoft Office is fantastic. If you use Office 365, but your plan doesn't include the full version of Office, you'll be using Office Online: This includes Word Online, Outlook Online, Excel Online, PowerPoint Online, OneNote Online, etc.
You can have an Office 365 plan and use Office 2013 regularly, or you can have an Office 365 and only use Office Online. It'll depend on both your plan type and your personal workflow. My preference? I like to bounce back and forth between the two.