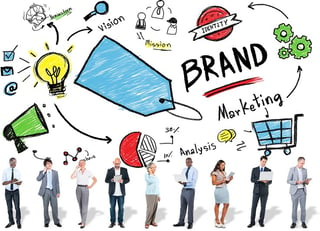 You can probably deploy a few hundred virtual machines with your eyes closed, but one of the real challenges for MSPs is attracting potential new clients. Marketing and sales don't necessarily come naturally to us technical folks.
Confession: I used to mentally lump sales and marketing together. And while I agree with Jeanne Hopkins over at Continuum who writes that MSP Sales and Marketing is a team sport, I have come to appreciate that they are in fact very different functions, each with a unique perspective and skill set.
This post will focus on a particular facet of marketing strategy: your brand. While your marketing plans should also incorporate lead generation, lead nurturing, and enabling content, these activities are actually fairly cookie cutter. Somehow brand development feels much more personal and unique.
Every brand has a story to tell
Your brand is your promise to your customer. It tells them what they can expect from your products and services, and it differentiates your offering from that of your competitors.
Selling managed services is about selling value over the long run. It has a subtly different flavor from selling IT products and services in the break/fix model. The most successful MSPs position themselves as business advisors and trusted partners rather than just IT troubleshooters.
As you tell the story of your brand, be sure to weave in the peace of mind and improved long-term ROI that clients will enjoy when working with you.
It starts with a logo
Get a great logo and put it everywhere: website, letterhead, brochures, clothing, everywhere. Or even if you already have a mediocre logo, spruce it up and put it everywhere. Just be careful about mid-stream logo changes; it can be jarring for existing customers.
Be internally explicit about your brand messaging
What are the key messages you want to communicate through your brand? Make sure they are written down so that every employee is on board with your brand attributes.
Every time somebody interacts with your team, the brand is either reinforced or weakened. Make sure your employees understand the vision and priorities and how that translates into their daily work.
Look and sound consistently great
Apply your brand consistently across:
Your website, social media, blogs, portals, and other online assets
Marketing materials, such as posters, booths, brochures
Sales-enablement materials such as price sheets, case studies, white papers
Create brand standards for your marketing materials. Use the same colors, logo placement, graphical themes, and apply them consistently. Templates can help!
Create a "voice" for your company that reflects your brand. This voice applies to all written communication. If your brand is fun and friendly, be peppy and conversational. If it's more classic, then some degree of formality is appropriate. You get the idea.
Deliver on your brand promise
Branding can extend to every aspect of your business. Beyond the obvious like your website and letterhead, consider how you answer the phones, what your employees wear, and e-mail signatures.
Most importantly, be true to your brand. As I mentioned earlier, your brand tells customer what they can expect from your products and services. Make sure you meet those expectations or you're sunk as a brand!
Go with a pro
If you haven't already, consider hiring a marketing partner with experience that is specific to MSP sales and marketing. A quick Google search on 'marketing for msps' will give you a good sense of the range of choices available.
Many successful small- to medium-sized MSPs outsource their branding and marketing so they can focus on MSP sales and on building their own core competencies.
You might also consider partnering with a training vendor so that you can resell end-user software training: at a great margin!