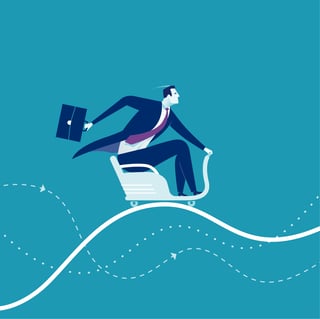 Are you tired of riding the revenue roller coaster that comes with the break-fix approach to IT services, intervening only after issues arise?
Most IT companies are realizing that in order to remain competitive, they need to play a more proactive role in anticipating issues and simplifying network management, all while keeping customer support costs low.
In terms of your own organization's financial health, reliable recurring revenue has become the holy grail of managed services success, and that means moving your IT company away from break/fix pricing and toward a fixed price service plan model.
Reactive vs. Proactive
When you are using a fee-for-service model, you only get paid when the services are specifically requested, i.e. when something goes WRONG. Plus, your clients are usually grouchy when something is broken and they have to call your team. They start to associate you with an unpleasant experience, regardless of how well you are performing your role.
On the flip side, when you operate under a fixed price service plan, you can be proactive instead of reactive. You get paid for making sure things are going RIGHT. Your clients come to view you as a steady, necessary cost of running a successful business, just like electricity and salaries. Plus, you get a seat at the table as a trusted advisor, helping your clients plan for their own business success. And most importantly, with a more predictable recurring revenue stream you can plan and budget better for your own success.
Focus on Long Term ROI for Clients
As your IT company offers more fixed price services, the way to get clients onboard is by proving the long term ROI they stand to gain.
Ask them how much downtime costs their organization. Then explain how, under a managed services model, you can focus more on implementing preventative services that are industry best practice and proven to minimize downtime.
Your clients will also enjoy the peace of mind that inevitably comes with the managed services model. They can feel confident that your team will proactively evaluate and mitigate risks before bigger problems arise.
See this great article about how MSPs can increase ROI and influence long-term business success.
Give ROI-Focused Technology Advice
Odd as it may sound, you want to make sure that your IT company is not exclusively focused on technology. Every technical decision and technical conversation belongs in service of the larger goal of client ROI.
If you want to be seen as a trusted partner, be sure to keep the focus on what's best for the client. It's worth putting some effort into understanding the operational and business needs of your clients in order to best align their tech services with their core business objectives. Demonstrate your shared commitment to their success, and your own success will be a natural byproduct of that relationship.