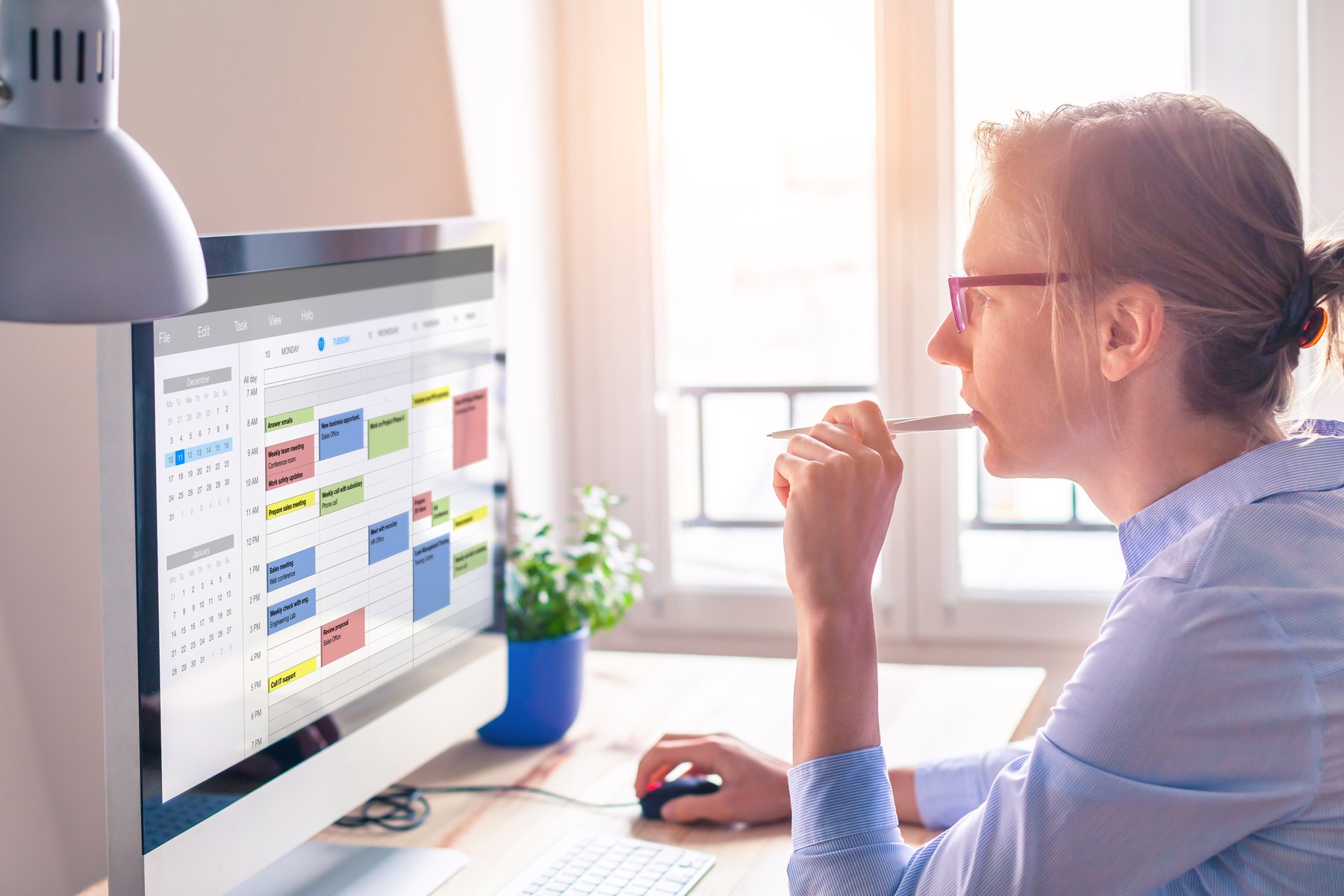 With Microsoft Teams as your organization's communications hub, you can manage your 'Bookings' directly within Teams. Simply select the ellipsis to add the Bookings app to your Teams sidebar. Bookings is an Office 365 application that allows your customers to book appointments with your staff based on the services you offer and your staff availability.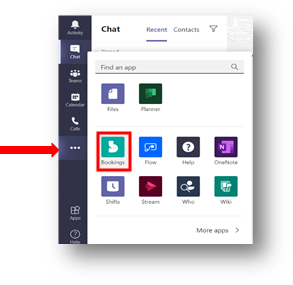 Use Bookings in Teams
Bookings opens to the last calendar you were managing, on the current date. This will allow you to see your staffs' calendars and Bookings appointments. You can change the date to view other days. You can also switch the Bookings calendar if your business uses more than one (selection area shown in red below).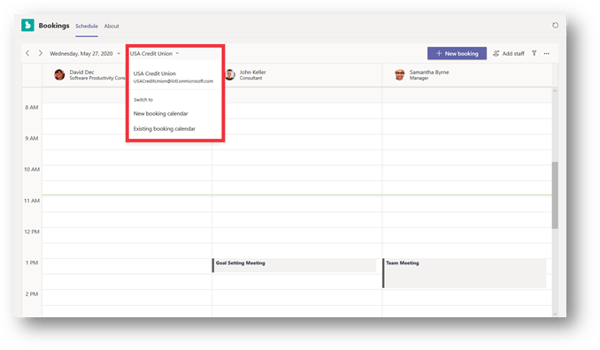 You can also add a New bookings calendar or switch to another existing calendar. You may want to have separate Bookings calendars: one to schedule appointments with clients and one for internal Bookings, like reserving the time of Subject Matter Experts for specific meetings. Because this is all synchronized with Exchange Online, there is no concern with double booking resources.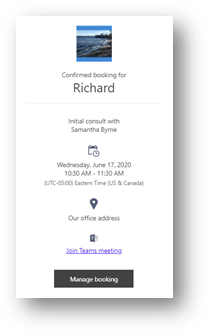 Client Bookings: An Example
Our client Richard Langley booked an appointment with Samantha Byrne. This is a confirmation received by Richard for the appointment.
Samantha will see this meeting on both her Bookings Teams calendar and in her Exchange Online calendar. Because Microsoft Teams is her communications hub, she can stay right in Teams, access Bookings, and see her appointments.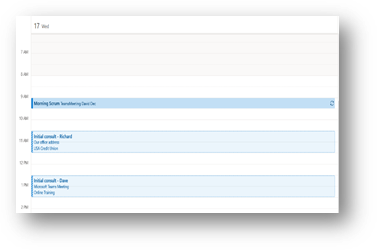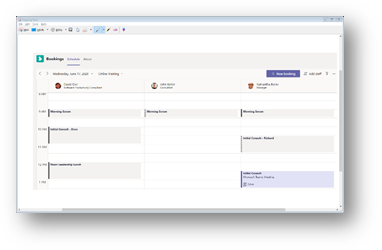 Bookings Calendar and Services
A Bookings Calendar is basically your "Business" and then you have Services within that Business or Calendar.
For example, I have one Bookings Calendar called "USA Credit Union" which is the name of my business.

Within that business, I offer my customers two (2) services; one for an 'Initial Consult', and another for an 'Account Review'.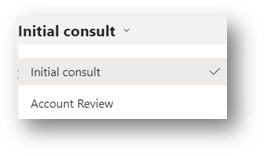 I then create another Bookings Calendar for my internal staff titled, "Online Training" where I offer one service for an initial consult and another service for my sales team to schedule a session with a subject matter expert.
Colleague Booking
Another advantage of using Teams for Bookings is booking other staff members for meetings. Right from the Bookings Calendar, you simply select the available time you want to book with a co-worker, and you can book the appointment. You can also include other staff in the booking, provided they are a member of the services you are booking in.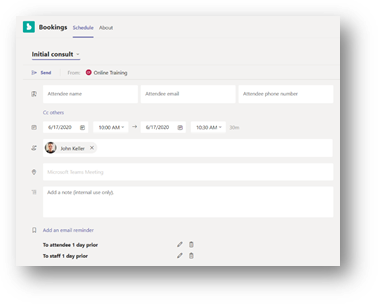 Let us say you want to meet with John Keller about a customer issue. While you are in Teams, you can go to any of the Bookings calendars – you will see John's full availability. To include any other Bookings and Exchange scheduled meetings simply click on the available time in his schedule for the date and time you wish and complete the Bookings form.
Add Staff
Use the add staff button in the upper right corner of the page to add additional staff to the current Bookings calendar.

You can add staff to the Bookings, remove a staff member, or make a "Viewer" an "Admin". You can also change the Business details and appointment types right from this screen.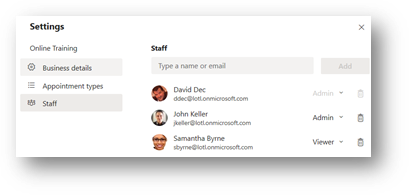 Manage the Booking Page
The Booking page is what your clients see when they book an appointment. You can launch your Bookings app by selecting the ellipsis in the right-hand corner of your Bookings page.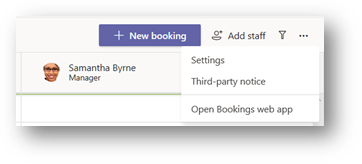 Summary
Microsoft Teams serves as your communications hub for your business. Bookings is a great addition, as it provides a way for your clients and coworkers to schedule appointments with you (the Bookings page will show your availability).
What this means is that you no longer have to spend time scheduling appointments and reminding clients of upcoming meetings. Bookings allows you to see all your scheduled activity in one calendar right in Microsoft Teams.
Click here to read our "Introduction to Microsoft Bookings".
About KnowledgeWave
For the past 20 years, KnowledgeWave has been helping companies deploy and adopt the latest business software. We stay up to date with the most recent software features and are constantly adding additional training to our online learning library, the KnowledgeWave Learning Site.
As a Microsoft Partner, we stay on top of all the newest features released within Microsoft Teams and Office 365. We pride ourselves on having helped hundreds of organizations throughout North America deploy business solutions for their organizations.
If you are researching, considering, or planning on deploying Teams or Office 365 within your organization, let us help guide you through the process. We offer: