Bookings from Microsoft is an Office 365 application that allows your customers to book appointments with your staff based on the services you offer and your staff availability.
The Microsoft Bookings app is available to use by default for Office 365 Education A3, Office 365 A5, and Office 365 Business Premium subscriptions. If your IT administrator has granted you access to Bookings, you can access the app via Office online.
Related Blog Post: Office 365 Licensing
Bookings app for Office 365 Enterprise E3 and Office 365 Enterprise E5 customers is currently available via an add-on. Beginning May of 2020, the add-on process will be removed. Bookings will be available as on by default and still needs to be published by your Office 365 administrator.
Create your service offerings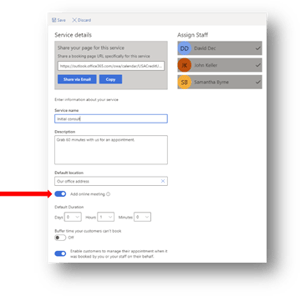 You start by creating a service or services. If you are a credit union, for example, you can create one service for an initial consult, another for auto loans, one for mortgages, and another for financial planning. Then you assign your staff to each of the services for which they are best qualified. Bookings syncs to your Exchange Online calendar, so you do not have to set up each persons' Bookings schedule. You simply need to decide on your Bookings page whether the service is available during business hours. Your staff simply must make sure they keep their Outlook (Exchange Online only) calendar up to date.
Teams Support
You can also configure the service to support online meetings using Microsoft Teams. This way, you can use Teams to meet with your customer online instead of the customer physically meeting at your office or their home. Note: the staff member needs to support Teams to provide this service.
Mobile App
You can also manage your organization's Bookings from the mobile app. If you are away from the office and you need to adjust your Bookings service, staff, or anything else in Bookings, the mobile app allows you access to your Bookings to do so from your mobile device.
Create your Bookings page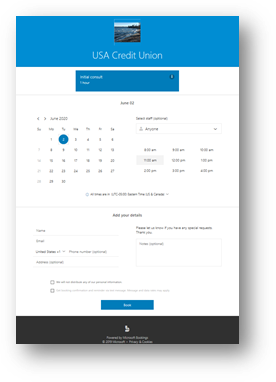 Your Bookings page is the client-facing content: it is what customers will use to Book appointments with you or your staff. When you create your Bookings page, you can publish the page to your Facebook Page, Twitter account, or you can Email the link to your customers. You can also embed the link on your website so customers can manage their appointments or book additional appointments themselves, leaving you time to do your work instead of managing and scheduling appointments. Your clients will also receive Bookings reminders to help minimize no show appointments.
Using Bookings for Internal Staff Appointments
Some of your team members may need to connect with other coworkers to help a client. You could create an additional service and build it so only internal people have access to it. Let's say you are someone working in sales and you are speaking with a client. You decide you need to escalate the questions to an SME (subject matter expert) for additional details. You can look at the bookings page as if they were a client (i.e. in the above scenario) to see when you are available. You can see the SME's availability and ask the client, "Is 3:00 PM on Tuesday okay?" With a yes from the client, you can click a button on your Bookings page and book the SME for the service they need, quickly and without trying to find availability in a calendar. Think of this option as publishing the availability of the SME to your sales team.
Summary
Using Bookings from Microsoft will make it easier for your customers to book appointments without phone calls, back-and-forth messages, and lots of emails. It will help you by letting the Bookings take care of themselves while you concentrate on the services you supply your customers and colleagues.
Read our follow up blog post: How to Manage Bookings within Microsoft Teams
About KnowledgeWave
For the past 20 years, KnowledgeWave has been helping companies deploy and adopt the latest business software. We stay up to date with the most recent software features and are constantly adding additional training to our online learning library, the KnowledgeWave Learning Site.
As a Microsoft Partner, we stay on top of all the newest features released within Microsoft Teams and Office 365. We pride ourselves on having helped hundreds of organizations throughout North America deploy business solutions for their organizations.
If you are researching, considering, or planning on deploying Teams or Office 365 within your organization, let us help guide you through the process. We offer: