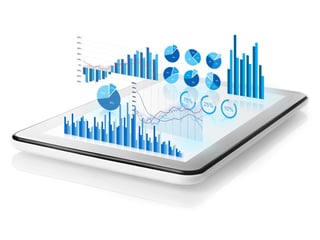 Are you a data analyst or even a power user of Excel who manipulates data for various reporting requirements? You can really bring your data to life with Power BI, and KnowledgeWave is excited to extend an option for Microsoft Power BI training.
This post was updated 9/15/22 to include our on-demand training for Power BI.

What is Power BI?
Microsoft Power BI helps present your organization's data through rich visuals, providing true business intelligence so you can focus on what matters to you.
Power BI is a suite of business analytics tools to analyze data and share insights. Monitor your business and get answers quickly with rich dashboards available on every device. Creating a dashboard is simple thanks to over 50 connections with popular business apps such as Salesforce, GitHub, Google Analytics and Microsoft Dynamics.
If you are a data analyst delivering reporting and analytics to your organization, Power BI lets you be productive and creative with what you build. Power BI Desktop is a feature-rich data mashup and report authoring tool. Combine data from disparate databases, files, and web services with visual tools that help you understand and fix data quality and formatting issues automatically. With over 20 built-in visuals and a vibrant community of custom visualizations, create stunning reports that communicate your message effectively. With the Power BI service, publish reports securely to your organization and setup automatic data refresh so everyone has the latest and most current information!

Power BI Training Options
On-Demand
We now offer an on-demand Power BI Series, as part of our Learning Site subscription. It's a 6-part series that covers setting up your workspace in Power BI Desktop, designing and connecting to your data sources, reviewing data relationships, building reports, advanced features, and sharing reports.
Learn More: Call 1-800-831-8449 or email education@knowledgewave.com
Live Instructor-led and Hands-on
Our Microsoft Power BI course, Microsoft Power BI Data Analyst (PL-300) is a three-day LIVE instructor-led course. It is taught online, so you can take it from any computer with a good internet connection.
The audience for this Power BI training course includes BI professionals as well as technically proficient business users who need to analyze data using Power BI. This course will also be attended by SQL Server report creators who are interested in alternative methods of presenting data.
Course Objectives
Ingest, clean and transform data
Model data for performance and scalability
Design and create reports for data analysis
Apply and perform advanced report analytics
Manage and share report assets
Create paginated reports in Power BI
Dates:
October 10-12, 2022
November 7-9, 2022
December 12-14, 2022
Duration: 3-days
Tuition: $1,785*