Join KnowledgeWave, and our Excel expert David Thibault, for our specialized Excel 2013 Power User for CPA's. After you've exported data from QuickBooks to Excel what's next? In this custom course, students will learn the advanced skills necessary to create business applications using Conditional Formatting, various Functions, Formulas and PivotTables. This is a great class for the Excel user looking to boost there skills to Power User status. This session is eligible for 7 CPE credits for Certified Public Accountants.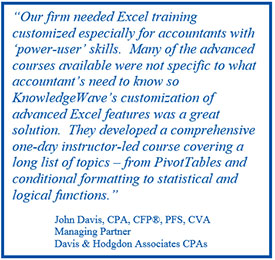 Course Content
• Formula Basics
• Conditional Formatting and Removing Duplicates
• Statistical and Logical Functions
• Lookup and Reference Formulas
• Text Formulas
• Data Tables and Dynamic Headers
• Pivot Tables and Excel Tables
Date: July 22nd, 2015 (Ask us about our private options)
Time: 9AM - 4PM.
Rate: $249
Program Level: Intermediate
Delivery Method: Group Live
CPE Eligible: Yes*
* 7 CPE Credits for Specialized Knowledge and Applications
Call 1-800-831-8449 to register.
Corporate class options for team training are also available.