Microsoft Office 365 provides fantastic collaboration options. If your company is using Office 365, no matter your role, you're likely using Microsoft Outlook or Outlook for the Web. Using Outlook effectively can enable you to work more productively and efficiently, both individually and in a team environment.
Work smarter not harder
Sure that's a cliché statement, but if the shoe fits...With Outlook for the Web you can create group calendars and benefit from SharePoint Online features, without having to know a lot about SharePoint. Leveraging the power of Groups enables you and your team to stay organized and focused on both your personal work obligations and your team schedules and projects.
Office 365 is continually evolving
Using Groups with Outlook for the Web provide users with a new user experience allowing collaboration in "conversations." The Group feature even provides the ability to collaborate with users outside of your organization, if that option is enabled. Members of Groups can chat in an organized manner related to a specific topic and keep that conversation and related content, including images and files, organized.
The Groups feature in Outlook for the Web also provides a nice alternative to SharePoint team calendars and is better than having one person create and manage a calendar. Group Calendar in Outlook for the Web provides a full Outlook-like experience and can help you and your team stay focused, organized and up-to-date.

After setting up a Group there are some great features available for keeping your team organized. You can start a new conversation with group members, organize files important to your group and setup a group calendar.

In this example Samantha, the Director of Marketing sets up a group for her social media duo, Sheila and John. Samantha created the group and started a conversation about company history and the hashtag, #TBT. She then went on to setup a team calendar for the group members. Group members Jon and Shelia will receive any email messages Samantha sends to the group and have visibility to the group calendar. They can reply directly in Outlook and all the communication for that conversation is grouped on their Group Site.
John and Sheila and any future members can view all the group conversations by clicking on the Group name from within Outlook for the Web. In the snip below we see John's view and can also see that Samantha has now emailed the Social Media Team about a Facebook contest.
The team now has two specific conversation threads in which they can discuss strategy and ideas. They can even start to collect images and files to use in their social media promotions related to their various conversations. The team can stay organized and easily follow the threads of their different conversations for increased efficiency.
Leverage Office 365 calendar to work like the A-team
The Social Media Team also uses the power of Office 365 Group Calendar. Any group member of the Social Media Team can add items to the calendar, and all members are notified. John can easily view his calendar and the items on his various group calendars, he can even overlap calendars.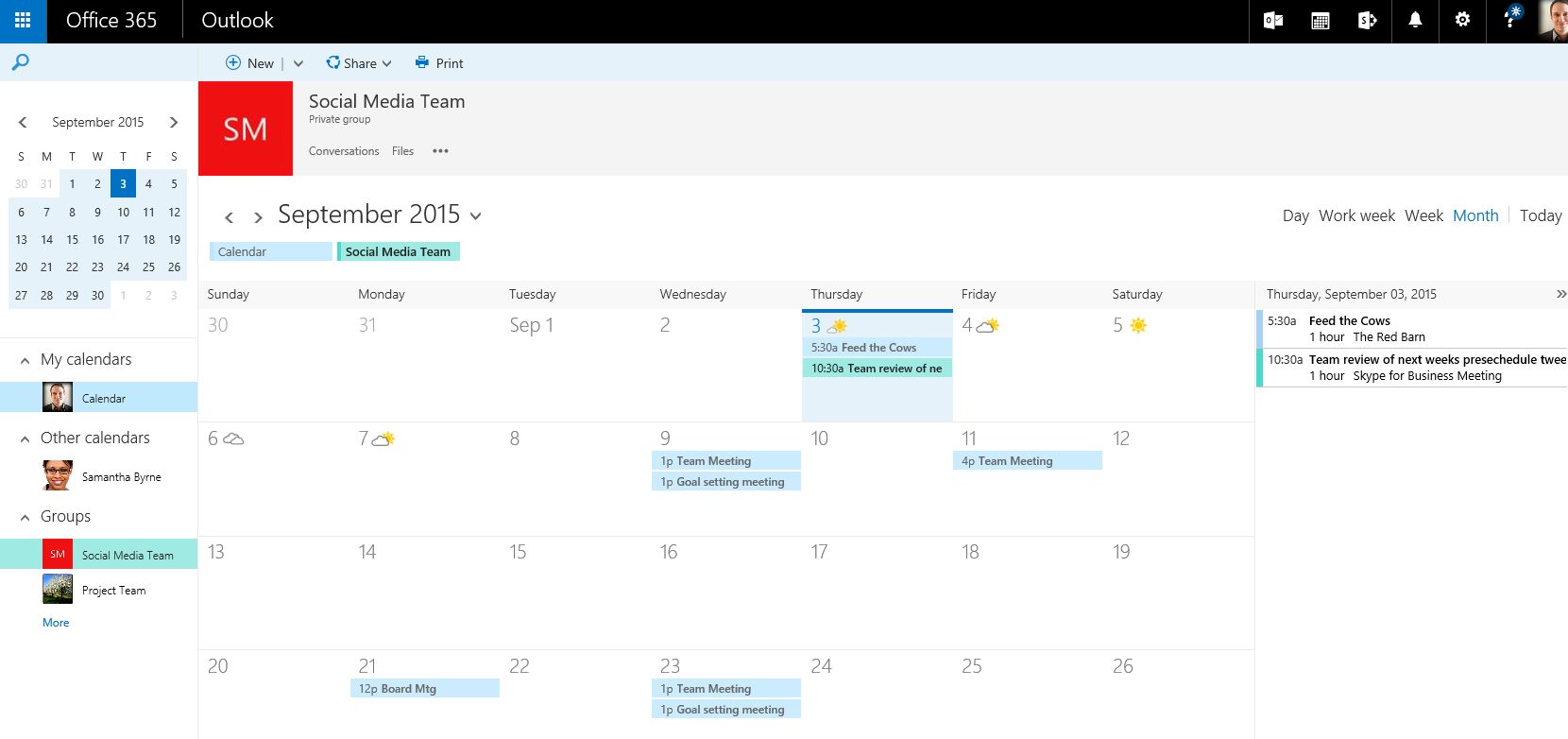 Sometimes a plan just comes together. Using Outlook Groups will have your team working efficiently and collaborative in no time.