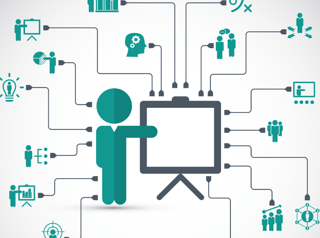 I'm always puzzled by organizations that insist on old-school training approaches when everything else seems to be moving to the cloud.
If your team is using the cloud to get work done, then it's to your advantage to make sure that everybody knows how to use the cloud effectively. And what better way than to offer cloud-based training, aka Training as a Service (TaaS).
You've got your standard Software as a Service (SaaS), Infrastructure as a Service (IaaS) and Platform as a Service (PaaS). Training as a Service simply provides subscription-based training services online via the Internet.
Updates happen
One of the hallmarks of the cloud is that updates are released more frequently, typically several times a year, often with little introduction or instruction.
Are your people keeping up? Do they know how to use the new features? It doesn't take long to learn a few useful gems with each software update. And for employees with busy schedules, small bites of training are often the only option.
The cloud is not self-explanatory
Don't make the mistake of overlooking training completely. Some companies assume that all cloud-based software is self-explanatory and that end users will figure it out on their own.
We've seen this approach fail magnificently, and we've been hired to come in and do damage control afterward.
You can just cross your fingers that users will self-serve the information they need to become competent in the cloud, right? No. You will create disgruntled users who are uncertain of the landscape and unsettled by the frequent changes. Not the kind of environment that is going to propel your team to success.
And more importantly, over time your workforce will still be using older features to work less efficiently, causing you to lose ground against your competition.
Flexibility is key
You know the drill in the old training model: employees are pulled from their roles to attend day-long training events. It's expensive and disruptive. People go back to their jobs and forget 80% of what they learned. Wash, rinse, repeat.
We've written before about the benefits of online training vs. classroom training, and for the majority of situations, online training-as-a-service is the clear winner.
A good TaaS provider will offer a mixture of on-demand training resources as well as live online events like classes and webinars.
What does TaaS look like and how does it work? We can show you! Simply request a quick 10 minute demo. Or, check it out yourself through our free trial, no credit card required.