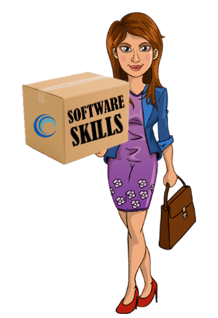 Employee training. Some people think of it like the ante in poker: it's the minimum stake to be in the game.
If you are like us, then you think of it more as a strategic advantage. Invest in developing your team, and your team will be invested in the success of your organization.
Barriers to entry
But it can be challenging to get even a basic training package in place, especially for small- and medium-sized organizations. Cost can be a factor. Or not having anybody on the team with "organizational development" or "staff training" in their job description. Or lack of time, lack of leadership buy-in, etc.
We hear you! Those are legitimate impediments and, in my experience, somewhat common. We work with small- and mid-sized organizations all the time. But I'm here to tell you that it really can be affordable and easy-to-implement. And most importantly, effective.
Our virtual training approach
To guide the way, we recently wrote a new eBook: Skills Training in a Box - How to Implement Training Successfully. We describe the importance of investing in employee development, and describe how to find a program that best suits your needs.
Plus, you will learn:
How you can improve workplace effectiveness through software proficiency
The benefits of virtual training
How our integrated solution reaches all learning styles
We have decades of experience helping organizations provide software training for their employees, and now it's all available online. Putting our training package in place is as easy as opening a box. But you don't literally get a box, sorry.