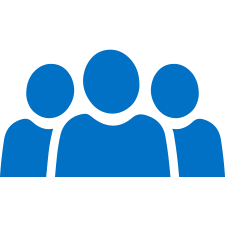 Office 365 presents businesses and their employees with new modern ways to work. One great example is Office 365 Groups, often referred to as Modern Groups.
Leveraging Office 365 Groups in your organization provides a new take on how we work together, providing flexibility for group members to work collaboratively in an efficient way.
Read on! There's a great video at the end of this post.
The Old Way: Distribution Lists
You are likely a member of one or more distribution lists at your organization. Distribution lists provide a unique email address, and individual users can be added as a member to that list. Maybe it's, allusers@mycompany.com or sales@ABC.org. Communications sent to that address are then distributed to each individual's inbox.
Distribution lists served us well, getting those messages in our inboxes was a great thing. Or was it? You likely get a lot of other email as well. If that distribution list is being used to help a client, for example, you might have multiple users replying to group messages.
Take those messages, sprinkled in with the regular mail you receive in your inbox, and it can make tracking the conversation's progress difficult, unless you are grouping your messages in Conversational mode in Outlook.
Enter Office 365 Groups: The Modern Group
With Office 365 Groups you get several helpful Office 365 tools that will help you and your team work better and more efficiently together, either as an ongoing team or on a specific project. Modern Groups can be short-lived, like a small project or event, or long-lived like a Sales Team. An Office 365 Group provides members of the group with more than just a distribution list.
The following features are included with Modern Groups
An Email Address:


An address that makes sense for the team:

anythingyoulike@mycompany.com. An address you can set up without submitting a support ticket to IT (if company policy allows). Emails sent to this address are tracked in conversation view within Outlook, in an additional inbox-like experience. Providing a threaded conversation view that betters shows the progression of the topic. (Company policy can allow external users to send to the address, too or lock it to internal addresses from your domain only.)

Plus these Office 365 Group features:


A Shared Group Calendar:
Groups get a calendar. No need to have IT set up a second mailbox or SharePoint site to leverage a needed extra calendar. This allows users to easily overlay a group project or team calendar over your calendar or another calendar.


A Cloud Location for Group Files:
A document library for group files with all the power of SharePoint. You get the search and filter options and the ability to set simple alerts when files are added. You can build more advanced workflows too. You can access group files like you always have, by syncing them to your PC, but you have so much more flexibility to work with these documents since they are in the cloud, across devices, from any location.


A Team Notebook:
A great way for a team to stay organized is to leverage OneNote for meetings and team notes. When a new Group is created you get a OneNote notebook that's specific for your group. That notebook lives in the cloud too, making it accessible from any location across your mobile devices.




A Planner:
Microsoft Planner is a group or team-based task management tool. Way more powerful than Outlook tasks, and unlike Microsoft Project, it's easy to use and part of the Office 365 package. Bring accountability and transparency to tasks needed for success. With Planner, you can create tasks, assign them, reassign them, attach group files to them, and track your progress with status updates and comments.


A Team Site:
The engine under the hood for Office 365 Groups is SharePoint. All these pieces connect and work seamlessly together. Not usually leveraged for short-lived groups, but very useful for teams or long-term projects, is a SharePoint Team Site. Easily access files and or see what's trending with the people and documents that are part of the Group. With a Team Site, you can post news and information, videos or add connectors for things like GitHub, Google Analytics and a plethora of other connectors. It's super easy too!
Don't worry you don't have to use all these features when you decide to use Office 365 Groups, but these tools are available if you need them.
Want to see Office 365 Groups in action? Watch this video!
You might also like...