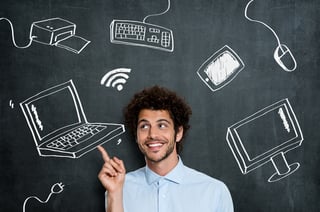 By now, the benefits of offering remote support through GoToAssist or LogMeIn or any of the like have made themselves known. You've embraced the increase in productivity, efficiency, and reduction of travel costs it brings. Your clients are thrilled, too, with the troubleshooting ease and immediacy remote assistance offers.
How could you expand it to help your business make more money?
Use the insights below to grow your long distance tech support offering into a profit center, and measure its success in something more than dollars.
Profits Start with Cost Savings
Remote support allows you to do much more with less. The efficiencies and ease your remote desktop support services award are evident. When searching for profit, little things like saving on travel time, fuel, and reduced risk of accidents traveling to and from a client add up on the bottom line. You also have the ability to service more clients more quickly. Which leads to more billable hours of work.
Consider Expanding Your List of Online Support Services
Look inwards first. Your techs are likely to have undiscovered talents or knowledge that could be offered to clients. Perhaps it's handiness in a unique application, or first-hand experience with a particular vertical's software from a prior job. Open the door to your team's background to mine for these hidden gems. They might lead to key differentiators in your offer mix.
After your internal search, gather feedback from the source that matters most: your clients. As you talk to prospective clients, you hear reasons why your offer doesn't match the client needs.
Ask yourself:
What are the reasons?
Where do you store that type of feedback currently?
How often do you visit that list to expand your remote assistance capabilities?
Businesses evolve. Your clients' needs change as well. Speaking with them (and acting on their feedback) uncovers new potential service directions they'll appreciate. And they might not be the only ones in the area who do.
Upsell End-User Training Services
If you find you're repeatedly answering the same questions for the same client, or you see an obvious area for improvement from your interactions with them, upselling an end-user training solution—like KnowledgeWave—is an easy way to increase profit. With it, your clients benefit from better performance at work, you're freed up to assist other clients with other issues, and clients appreciate the value-added offering you extend to them.
Keep an Eye on Your Competitors
A thorough investigation of your local competitive landscape often offers insight into new, unchartered service territory for remote assistance. Find out what they're doing that you're not. Close the offer gap to close more competitive wins.
Also, look for opportunities in the services your competition doesn't offer. If you can beat them to it, you instantly secure a marketing message boost to win clients. Then, instead of you chasing the competition's tail, they'll be chasing yours.
Keep Your Techs Sharp
Although we're talking about profit, investing in your tech team's ongoing education is often seen as an expense. However, as their aptitude and command of new remote assistance capabilities grow, the profits will be seen.
But don't stop at ongoing training for the IT services you offer. IT wizards have a certain reputation for being cold, impersonal, and disconnected from those who need them. The more customer service and soft skills your team demonstrates, the better the likelihood your team will profit from client satisfaction as well. Let your happy clients be your evangelists to other potential clients. Let them sell your responsive, personable, dynamic ability to swoop in like a superhero when trouble arrives. A word-of-mouth client acquisition goes right to the bottom line.
Speaking of continuous learning, that's where we shine.
Our TaaS model
provides online access to thousands of training resources, from on-demand videos to live classes. We can help your techs stay current, and we can provide end-user training for your clients.
Please check us out.
Measuring Your Program's Success
As you set the KPIs for your remote support program, be mindful of performance and quality. Try basing your KPIs on the following five criteria from an article by SupportIndustry.com called The Quality Support Start, and you'll be off to a great start:
Case Re-Opening: A client has not called back about the same issue.
Resolve Time: The case was resolved within the normal time parameters for this kind of issue.
Escalation: Instead of measuring "first call resolution," which discourages escalation, measure whether any escalation was appropriate to the complexity level and/or SLA.
Client Satisfaction: client sat ratings within a desirable range.
Net Promoter Score/Social Media: Positive or, at least no negative, comments on social media.
Managing metrics can be a challenge for some. If too much attention is put on the wrong metrics, you risk negatively impacting employee relationships. They'll feel micromanaged. Clients, too, could be negatively impacted if a member of your team sacrifices attentive, quality service just so he/she can meet established service targets. Yet, a lack of concentration on performance metrics can lead to a haphazard service quality that drives down client satisfaction. Balancing performance and quality ensures the needs of your business and your clients are equally considered.