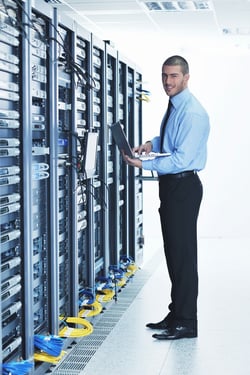 Many companies review their cost structure at least annually. A significant part of many business budgets is keeping IT systems running.
Companies that look at either internal or external costs alone are often eager to see what can be done to review the visible costs of IT support.
Downtime is costly
As even smaller companies have access to sophisticated applications to help them run their business, the potential implications of downtime are becoming more obvious.
With more demands on the network and individual devices, annoyances such as slowly loading pages and applications, slow printer processing, and recovering documents become more noticeable to everyone. Savvy managers are realizing that this 'hidden downtime' can be very costly over the course of a year.
What's wrong with break fix?
This is a reactionary model where the support company acts in response only when the customer's equipment fails, when the network goes down, or when software programs are not working properly. All of these forces are causing companies to rethink their approach to IT and IT services.
The reactionary business-as-usual approach is fading as companies are moving away from the break fix model.
Per TechTarget, "We've watched adoption of managed services rise dramatically over the last few years...Organizations that would not have considered outsourcing even a year ago are evaluating, and those that were using these services are extending them to more of the organization. Also, many companies using managed services have grown to use an average of four services."
In fact, the Gartner Group at one point stated that if VARs do not change their break/fix business model to a pro-active Managed Services Provider (MSP) business model, roughly 40% will be out of business. This is born out by the fact that according to research by Exaro, bankruptcies of IT services and communications companies increased by 22% in 2014.
Advantages of the MSP model
The MSP model provides a number of advantages to the traditional VAR. Technician and engineer productivity can be greatly improved by eliminating travel time and by addressing problems before they occur rather than cleaning up messes afterward. The MSP model provides a predictable monthly revenue stream that eases the worry of hiring and maintaining staffing levels.
With the old break fix model, it's actually to the VAR's advantage to have things breakdown. This created a conflict of interest which many customers have become sensitive to. With Managed Services, the interests of the MSP and the customer are fully aligned which creates a win-win situation for everyone.
In order to compete, and indeed to remain in business, VARs have to move to the MSP model. This will cause many sleepless nights as VARs try and determine what services to offer, what to charge, how to migrate existing customers to this new model etc.
Savvy MSPs will be adding self-serve products and services that improve overall profit margins while not adding burdensome staffing to support. That's where KnowledgeWave comes in! Ask us how your future MSP business can benefit from high-margin, recurring monthly revenue and affordable online business software training.