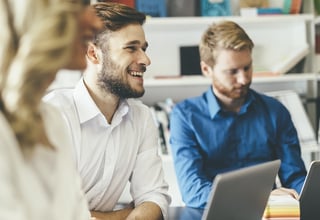 As an IT professional, you just get it. You live and breathe technology - and you're probably an early adopter. Tech is in your blood.
Being on the inside, you also have unique insight into the challenges managers and users within your company experience. Naturally, you've got a handle on the server and Exchange moves for the upcoming Office 365 migration. It's smooth sailing as far as you're concerned.
Is anybody paying attention to adoption and training?
But what about the rest of the organization? Maybe you notice a lack of enthusiasm and planning about end-user training and getting everyone to use it. Just how deeply do you need to be involved to make certain the move is successful? That depends.
If roles are well defined and you feel confident that Office 365 adoption planning and training are in good hands, then you can rest easy. However, if adoption planning and end-user training are not adequately addressed, you'll be doing your organization a huge service if you step up and speak out about it.
You don't have to necessarily own it, but this is where the rubber meets the road in terms of IT leadership. If the latter sounds closer to your current situation, here are some helpful hints to share with those steering the migration effort.
Plan ahead
We know a thing or two about Office 365 adoption, and have helped a number of organizations make the transition with ease. Here's a sample Office 365 training plan we used to help to align a client's efforts and provide a comprehensive rollout. Feel free to use ours if one's missing from your migration.
Train for change
As you know, there's a lot under the hood of Office 365. Too much for some organizations. Attempting to train every element would be impractical at best. Instead, we recommend targeting your initial training on specific behaviors that lead to increased productivity and workflows.
For example, do you want people to stop emailing file attachments around? (This is a biggie! We hear it all the time.) Then focus your initial training on how you want people to store and share files using SharePoint or OneDrive for Business.
Use an iterative approach
You don't have to leverage every capability right out of the gate. That's why ongoing training is a must for Office 365 adoption. We've found that an iterative approach gives end-users time and exposure to gain familiarity and comfort. At the same time, your organization can work through its behavior change priorities more manageably.
Maintaining engagement post-adoption
Migrating to Office 365 is often a massive undertaking for an organization. If mismanaged, the whole effort could sputter out. That would be disastrous after all the time and planning that went into your initial training for end-users. Here are a few select tips for maintaining momentum post-adoption.
Plant seeds for success
Some organizations have seen success when they introduce a specific element of Office 365 (like Outlook Groups or Planner) to a single department. Once comfortable and productive with it, their success can be used to feed additional buy-in from other groups.
Identify a business success manager
Office 365 adoption experts recommend selecting a Business Success Manager. From initial to ongoing needs, this individual provides project management over all training, consumption and adoption around Office 365. They'll also work directly with IT and other departments to coordinate training and communicate success.
Champions, power users, and other SMEs
There are bound to be users who ease into Office 365 (perhaps due to previous exposure) and adapt positively to change. Embrace these human gems with open arms. They can help socialize success while serving as a go-to trusted resource for answers and tips.
Gamify the migration
Increase adoption and consumption of Office 365 by making it fun! (Yes, fun!) You'll appeal to people's competitive side if you can establish goals, award badges or prizes when goals are achieved, and introduce mission-style training tracks to complete.
Use Office 365 to teach Office 365
Nothing beats hands-on experience. Your end-users will get up to speed faster and gain contextual understanding if you use Office 365's tools to teach it. For example, "You could use a social pilot site in SharePoint that explains what's happening in the migration…or use Lync or Online Meeting to teach people about those future capabilities. This approach also ensures that those capabilities of Office 365 are being implemented to solve organizational business needs, not just for their own sake."
Mix up the training
Combine bottom-up and top-down training approaches to increase user adoption. A bottom-up method starts at the end-user level. Show them the benefits and business context for the new tools introduced to increase engagement. Reinforce end-user engagement by providing top-down training to executives. As executives learn of the business case benefits, they'll lead by example – perpetuating a positive spin about the migration for end-users.
Or, find a training partner
Of course, if you want to make end-user training really easy for you and your team, you could have someone else do it! KnowledgeWave has perfected a training approach to match every learner type on every schedule.
We also have an extensive collection of articles related to Office 365 to read if you need more advice on ensuring the success of your organization's migration. Good luck!