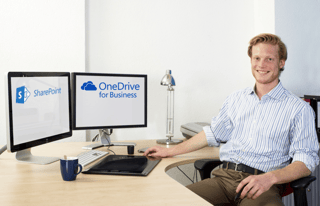 Moving your users to Microsoft's Office 365 cloud suite? One of the most important moves your company can make is creating a policy on how users engage with OneDrive for Business and SharePoint.
Cloud storage is key to cloud collaboration
Your SharePoint and OneDrive for Business policy puts in place some guidelines regarding how and where you want users to save work and collaborate on files. Office 365 was built for collaborating on documents and sharing business information, so if you don't figure out how to make cloud storage work for you and your team, you are missing out on a big piece of the puzzle.
Does creating a policy seem daunting, making you want to kick the can down the road? Don't let this be a barrier to Office 365 adoption in your organization. It's not rocket science, but it is important to provide your users with clear direction.
A quick search will bring back many results on different policy examples. Higher education institutions often make their policies publicly available. One I like best is also one of the simplest, from Wright State University.
Creating a policy can be as simple as you want it to be, and the benefits of moving to Office 365 are numerous. So let's step back to answer a few questions.
What are OneDrive for Business and SharePoint Online?
According to Microsoft, OneDrive for Business is an integral part of Office 365 and provides a place in the cloud where users store, share, and sync work files. You can update and share files from any device with OneDrive for Business. Real-time collaboration, working on documents with others at the same time, is a game-changer. To sum it up, OneDrive for Business provides online file storage.
Microsoft describes SharePoint Online similarly: SharePoint Online is a cloud-based service that helps organizations share and collaborate with colleagues, partners, and customers. With SharePoint Online, users access internal sites, documents, and other information from anywhere—at the office, at home, or from mobile devices. To sum it up, SharePoint provides access to sites, which can facilitate file storage in addition to any other tools and information that are relevant to the team.
What business problems do they solve?
I have daily interactions with many organizations all over north America. I often hear examples of using 5- to 10-year-old business software. I understand that thinking, and as a leader in my organization my previous belief was "why fix what isn't broke."
In a competitive business environment where organizations are competing globally, every minute counts. Understanding business efficiency and observing how using Office 365 can help you get back those critical minutes has changed my previous belief. More importantly, by getting everyone in the organization in sync your team is able to accomplish its deadlines and increase productivity while your workflows are operating as they should.
Are there any dangers?
There are many arguments about safety using cloud technology. The unspoken truth about content safety is that most saved information can walk away as easily as snapping a picture using the personal smartphone with 500+ pixels per inch in everyone's pocket.
One of my colleagues recently wrote a post on a real world example of the danger of not using it Office 365. Users are going to find ways to leverage today's cloud technology to be more efficient with or without your blessing.
When you provide a SharePoint and OneDrive for Business policy, you are providing both the technology and the governance to empower users with proper use while maintaining control over the tool set.
Set the stage for your organization to work collaboratively
As thought leaders on helping users become more efficient with the software they use every day, we have come up with a list of considerations you can use as the foundation of your policy. Whether you are a small group of 20, a medium sized organization in the hundreds or an enterprise consisting of thousands of users, having a simple easy-to-understand document serving as governance on OneDrive for Business and SharePoint will make your transition to the cloud smooth, get users productive quickly and set the stage for your organization to work collaboratively from the start.