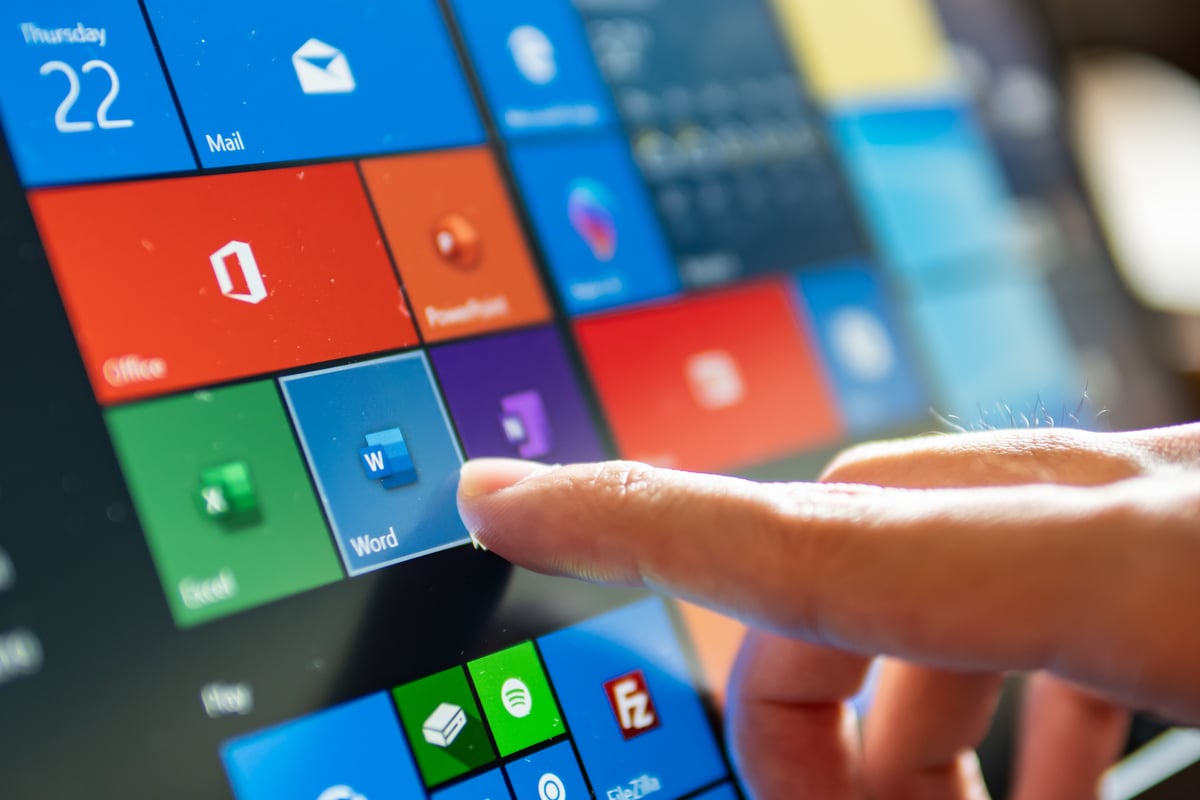 I originally wrote this licensing blog post back in May of 2016 and it received a lot of traffic and has helped many people in their planning for Office 365 deployments. I thought it was time for a new post to address some of the biggest licensing changes. Back in 2016, I noted that you couldn't go a week without hearing about a well-known business making the move to Office 365. Companies are still making the move, but the buzz we hear now is around Microsoft 365, and Microsoft Teams.
Many enterprise size clients have a direct line to licensing questions with Microsoft, the small to mid-size businesses (SMB) are often working with a Managed Service Provider (MSP) or are trying to figure out costs on their own. This post intended for the SMB to help them understand pricing and licensing options. This post should also be helpful for the MSP that may be transiting or adding Cloud Solution Provider (CSP) solutions to better serve their clients. MSP's reading this, if you haven't, you can build a relationship as a direct or indirect CSP with a reseller solution provider like Sherweb and Ingram Micro. Note to the SMB working with the MSP or CSP, these providers often bundle other value-added support services such as incident response, backup and Office 365 Training with the Microsoft/Office 365 licensing to provide more value to your organization.
Back on 7/10/2017, Microsoft announced during their Inspire event, Microsoft 365. Daniel Chang Data and AI Consultant at Microsoft stated "Microsoft's vision is to empower every person and every organization on the planet to achieve more. To align this vision, Microsoft needed to provide more solutions instead of separated products." I had the opportunity to attend Microsoft Inspire event in July (2019) and Microsoft 365, and the focus on cloud provided solutions with cross-platform tools like Microsoft Teams was the major focus of the event. Microsoft Inspire is an event for Microsoft Partners and the message was very clear that Microsoft Partners need to help the SMB with the move to the cloud. If you're a small to medium-size business, a good MSP or CSP should be able to assist you through this license jungle. If you're doing your own research, please read on.
From 2016, to today, Microsoft 365 is probably the biggest difference in the period, in regard to licensing change for both for the SMB. Microsoft 365 includes Office 365 and Windows 10 Enterprise + Enterprise Mobile and Security (EMS). Microsoft 365 rolls in your licensing costs for Office, Windows and security protection into one bundle. Office 365 licensing is still available, but with the end of life for Windows 7, many businesses that had Office 365 enterprise licensing are now transitioning to Microsoft 365.
Noted above, Microsoft 365 includes enterprise licensing for Windows 10. Office 365 licensing does not. The licensing for a modern workplace can be overwhelming and it can feel confusing to many organizations. I'll tackle that challenge in this post and I hope that people find this post helpful and a good resource. I do ask that you note that SaaS solutions like Microsoft 365 Office 365 evolve quickly, which can cause changes in licensing costs and the benefits included at the various licensing tiers. For that reason, I don't specifically list many rates in this post, but instead provided links.
Remember, licensing is one piece of migration. Once you've made your decision and the time comes to roll out to your end-users, don't forget the Office 365 training! I shared 10 ideas for boosting Office 365 adoption in this post, and these topics might be helpful to trigger adoption in your organization. While you're here to read about licensing, you need to give your users reason and benefit for change, and these ideas might help to spark more acceptance from your users.
Where do businesses start?
Microsoft 365 vs. Office 365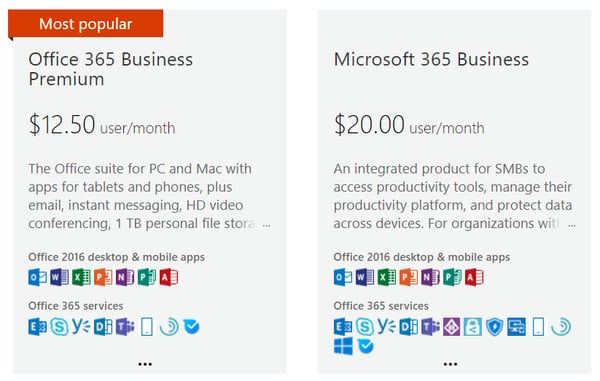 When a business looks at moving to the cloud they should now first consider, Microsoft 365 or Office 365. If your business is already using Office 365, the decision to move to Microsoft 365, is probably easy. If your business is just now looking at making the move to the cloud, then you should review what's included with Microsoft 365 to determine if you need all the services. You'll need to compare Microsoft 365 Business, to Enterprise F1, E3, and E5 licenses. If you need Windows licensing, or the benefits of Advanced data-loss prevention (DLP) or features like In-place hold, you should be looking at Enterprise licensing, not business licensing. You can purchase some of these services independent of the Microsoft 365 license, but several add-on licenses quickly add up to cost more than the enterprise-level E3 or E5 license that includes the service or services you require. A good rule of thumb is to let your governance and compliance requirements help drive your licensing.
Microsoft 365 Business licenses are available to organizations that have 300 or fewer users and a standard Microsoft 365 Business license will run $20/month (as of December 2019) per user with an annual commitment. Microsoft 365 Enterprise plans include Windows 10 Enterprise, vs. the Windows 10 Professional that is included with the Business license.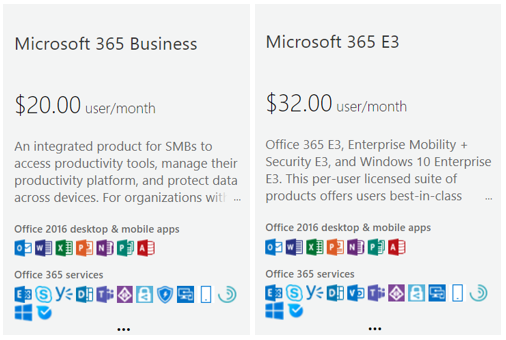 One of the biggest differences between Business and Enterprise plans is Microsoft Enterprise plans contains Advanced Threat Protection (ATP), Cloud App Security and advanced options for compliance. See what's included in the Microsoft 365 Enterprise Plans (F1, E3, and E5). Some features like in-place hold are often a requirement in specific industries and the additional benefits like unlimited OneDrive storage are worth the additional $12 a month cost for the Enterprise license. It should be known that you don't pick the licensing solely based on the number of employees, instead, it should be driven by the features your business requires. This means a company with 50 users while they can go with Business licensing, the features they need for compliance may push them to Microsoft 365 Enterprise licensing.
Microsoft 365 Business
Microsoft 365 Business Enterprise (E3)
Up to 300 Users
Over 300 Users

One Drive for Business
(You get Plan 1)

1 TB OneDrive Storage

One Drive for Business
(You get Plan 2)

Unlimited OneDrive Storage
Advanced Data-loss Prevention (DLP)
In-place Hold

SharePoint
(You get Plan 1)

No Business Connectivity Services
No InfoPath Services
No Cross-Site Publishing
No Catalog (info)
No Insights Features

SharePoint
(You get Plan 2)

Allows Business Connectivity Services
Allows InfoPath Services
Allows Cross-Site Publishing
Catalog & Category Page
Insights Features Included
Advanced Data-Loss Prevention (DLP)
In-place Hold

Exchange Online
50 GB Storage

Exchange Online
100GB Storage

Advanced Data-Loss Prevention (DLP)
In-Place Archive Unlimited
In-Place Hold
Voicemail Unlimited

Per User Investment: $20/m
Per User Investment: $32/m
Tip: This is happening less now with the new licensing models, but it should still be noted that blending on-premise software (previous volume licensed versions) with Office 365 licensing can limit access to particular features for collaboration for the users not using a Microsoft 365 or Office 365 license. While it is possible a mixed versioned environment has always been a challenge, and there's no change with Office 365. While you can mix Office 365 license versions without much problem, combining on-premise with online licensing can prove to be a challenge.
Upgrading all users to Microsoft 365 or Office 365 is your best opportunity to get everyone running a like version of the Office Software. When you're budgeting you should plan on getting everyone in your organization a Microsoft 365 or Office 365 plan, they may use a different license version, be it an F1, E3 or E5, but having everyone on board with Office 365 will help increase adoption, acceptance and improve your company's collaboration efforts.
While it's technically possible to blend Business licensing with Enterprise licensing my recommendation is you don't.
Key Differences between Microsoft 365 Business vs. Microsoft 365 Enterprise Licensing
Microsoft 365 Business is designed for SBM with under 300 users that are OK with the data storage allotments and may not have much need around compliance. Honestly, while it's available to companies with up to 300 users, many companies over 100 users start to look at the Microsoft Enterprise 365 licensing for stronger security, device management and larger storage allowances like unlimited archiving and mail storage.
Why go with Enterprise licensing?
Many of the businesses we work with select an Enterprise plan for one or more reasons. Lowering the cost for conference calling (formally called PSTN) with Microsoft Teams can be a significant cost saving versus using other meeting software like GoToMeeting or WebEx. Most often it's related to additional device management options and the added Security options that an Enterprise license provides. The more users at an organization the higher the likelihood the organization can benefit from using System Center Configuration Manager (SCCM) to manage PC's and the software they run, and Business licensing does not include licensing for SCCM.
A Licensing Workflow, Start Here
Do you need Windows 10 Licensing or want to combine Windows and Office 365 licensing?
Yes. Look at Microsoft 365 Business and Microsoft 365 Enterprise Plan.
Over 300 users, review Microsoft 365 Enterprise Plans
Under 300, consider both Microsoft 365 Business & Enterprise Plans
If you require, need or want:
Windows 10 Enterprise Licensing
Conference Calling (via Teams)
Advance Threat Protection (ATP)
Active Directory Integration
Group Policy Options
Litigation Hold
Enterprise Device Management
Power BI
License Server Licensing
Look to go Enterprise, or if appropriate, price required services independently. Fairly new is the F1 license which enables businesses to lower licensing costs for users that don't need full versions of apps, but still provides the security and other features available to the Enterprise.
Compare Microsoft Business 365 Plans
Compare Microsoft Enterprise 365 Plans
No. Look at Office 365 Business and Office 365 Enterprise Plans
Over 300 users review Office 365 Enterprise Plans
Under 300, review both Microsoft 365 Business and Enterprise Plans
If you require, need or want:
Conference Calling (via Teams)
Advance Threat Protection (ATP)
Active Directory Integration
Group Policy Options
Litigation Hold
Enterprise Device Management
Power BI
Look to go Enterprise, or if appropriate price required services independently.
Compare Office 365 Business Plans
Compare Office 365 Enterprise Plans