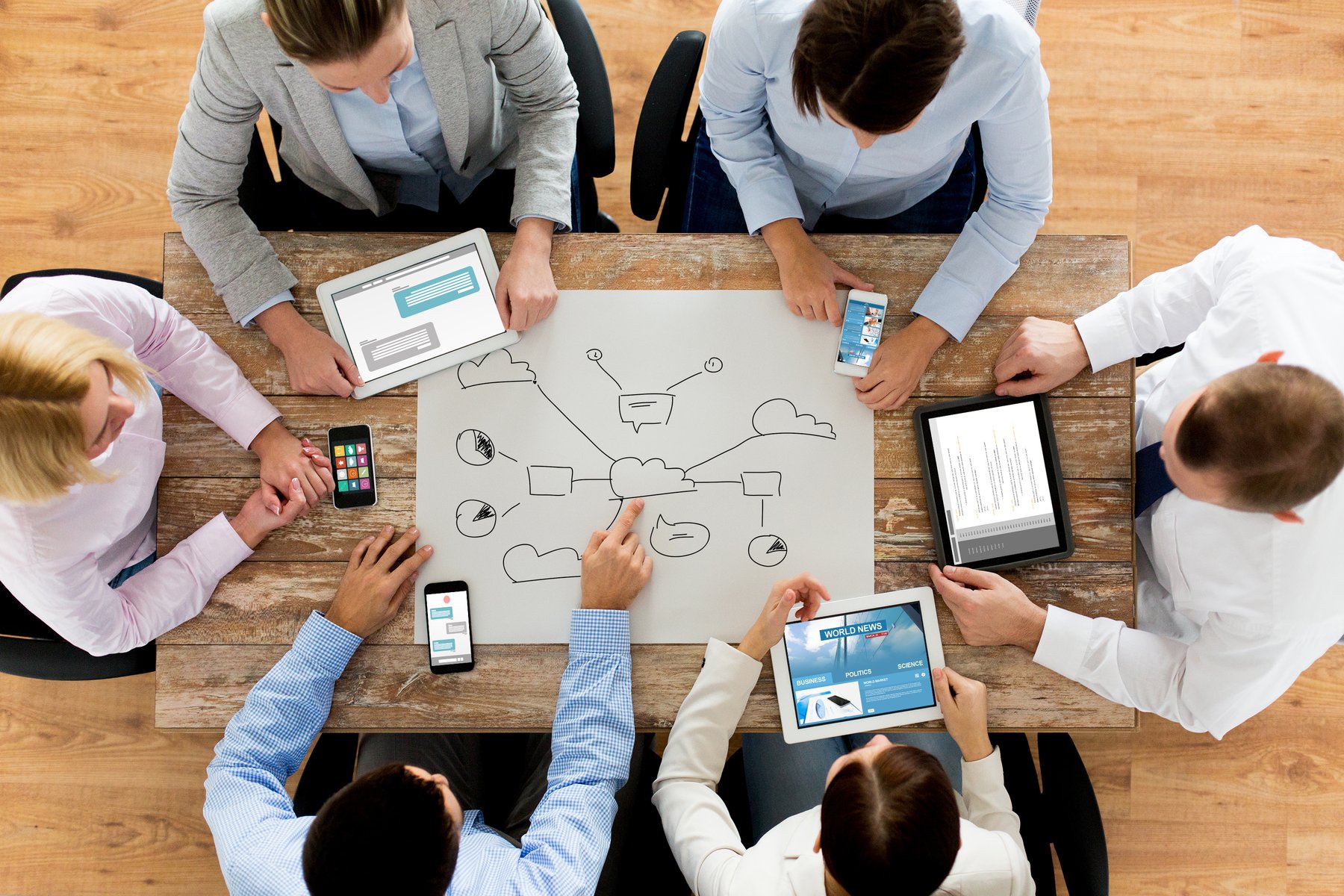 The KnowledgeWave team is excited to make training available for the Microsoft Phone System, also referred to as Microsoft Teams Phone. Teams Phone brings the power of traditional PBX systems to a tool that over 145 million of us touch every day, Microsoft Teams! You can make traditional calls from Teams, Outlook, or your mobile phone. Because it's a PSTN service you can receive your work-based calls within the Teams app, on your PC, your mobile device or a Teams supported device.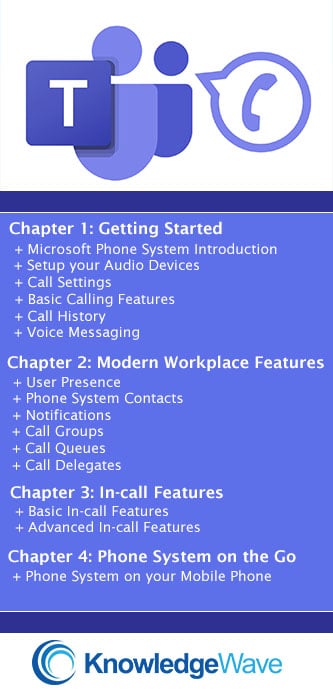 Microsoft Phone System has features such as auto attendant, that will answer and route calls to the right call queues. You can even use your existing telecommunications provider, by directly connecting SIP trunks to Microsoft Teams. The use of Microsoft Phone System lets us work in modern ways, in the Teams communication and work hub, that so many of us are leveraging every day.
The Microsoft Phone System Training Challenge
The lack of Teams Phone System training options has stalled adoption at many businesses deploying the Phone System. Many Managed Service Providers (MSP's) or Cloud Solution Providers (CSP's) that help deploy the Microsoft Phone System for businesses provide basic training to core users at the time of deployment and setup. The problem with that approach is the core users at the company and their deployment partner are usually busy reviewing licensing needs, configuring the system for call routing, general queue greetings, enabling in-call features like call recording, and evaluating other compliance related items. Training - while important - usually is considered secondary. At least until it comes time to train the general user. At that point, the company is often on its own for training most of the general users and any new employee hires. This is where KnowledgeWave can help.
Are you an MSP/CSP, and Need Training for Your Clients? Let KnowledgeWave Help.
KnowledgeWave has created an on-demand training course for the Microsoft Phone System. It's the most affordable way to train your users and provide them with learning options after deployment. This course is currently available as part of any KnowledgeWave Learning Site (KLS) subscription. This is powerful because you can also provide training specific to Microsoft Teams, to truly move your company forward. We have shared the video descriptions below. As a KLS subscriber, as new features are released, additional videos will be added automatically.
Chapter 1: Get Started with Microsoft Phone System
Microsoft Phone System Introduction
In this chapter, you will learn about the Microsoft Teams Phone System and how to set up your devices. We will show you the call settings and basic calling features that will let you start using the Teams Voice features quickly.
Setup Your Audio Devices
In this video, we explore audio device settings within Microsoft Teams that are specific to the Phone System, specifically features like noise suppression settings and secondary ringers for unique situations. These settings are the same for the new Teams Meetings/Calling experience and this video provides a modern refresher in the context of a traditional phone experience.
Call Settings
In this video, we access Teams call settings and take a tour of what to expect when getting your workflow set up. The focus is on features such as call answering rules, call forwarding settings, voicemail configuration, various personal greeting options, ringtones, and how to log in and out of call queues.
Basic Calling Features
In this video, we begin with a basic look at the Calls interface within the Teams desktop app. We'll explore the functionality and concepts of click-to-call options like the dialing pad, speed dial, and contact groups.
Call History
In this video, we'll explore the call history list in Teams and options for what to do next. Embracing the click-to-call concept, the call history list allows for quick and easy options to call the person back, chat, add to speed dial, add as a contact, or even block them. We will also show you how to use filtering options to find what you need without skipping a beat.
Voice Messaging
In this video, we explain how easy it is to access your voice messages in Teams. Topics include how to filter and find your voicemail, details about the caller, an automatic transcript, and the intricacies of the various options available.
Chapter 2: Modern Workplace Features
This chapter addresses modern features of Teams, and how they are used as part of the modern call experience using the Microsoft Phone System. The inexperienced Teams user will even pick up tips from this chapter.
User Presence
In this video, we'll demystify how a user's presence is indicated with a variety of colorful icons. By default, Teams takes it upon itself to set user Presence status automatically, based on your calendar and other activity. Based on this availability, Teams takes your recent interactions into account and adjusts accordingly.
Phone System Contacts
Contacts in the Phone System are different from but related to, your existing Outlook contacts. We'll explore the many ways to access contacts from the Contacts tab in the Teams Calls interface. Learn how to add and remove contacts, as well as how to easily learn more about a person from their contact card.
Notifications
In this video, we deep dive into taking charge of your Teams notifications and how they relate to your Phone System experience. We'll quickly bring you up to speed on how to manage settings as you utilize the full functionality of Teams. Topics include customization and awareness of notification styles and sounds.
Chapter 3: In-Call Features
Making a call is easy, but in-call functions are skills that you should know and understand. In this chapter, we cover both basic and advance functionally of things you can do when on a Microsoft Phone System call.
Basic In-Call Features
In this video, you will learn the basic in-call features within the Teams environment. Understanding the type of call you may receive, and then deciding what to do next based on the next step, makes for a smooth experience. We'll show how to receive calls internally and externally. Other topics covered include how to place a call on hold, add participants, transfer a call, consult then transfer, as well as how to both park and retrieve parked calls.
Advanced In-Call Features
In this video, we look at some of the advanced in-call features in Phone System. They include options that are typically reserved for a Teams Meeting, and you'll see how powerful your conference calls can become. We'll explore features like live text captions, call recording options, as well as how to turn on a transcription that can be downloaded and shared. With tools like Meet Now, and how you can share content or your screen, moving an audio-only call to a screen share.
Chapter 4: Phone System on the Go
We live in a mobile world, 97% of American adults say they own a cell phone. We find ourselves on the go, and there is no reason why the Microsoft Phone System through Teams can't extend to your pocket. In this chapter, you'll learn to use your Teams assigned phone number to make calls, access your voicemail and log in and out of call queues from your mobile phone.
Microsoft Phone System on your Mobile Phone
In this video, we show you how to set up and use Microsoft Teams Phone System on your mobile phone. You'll see how on your mobile phone you can make a call using your Teams assigned phone number, how you would receive calls on your mobile device, and how you can access voicemail from the Teams App.
Interested in reviewing this complete series? Contact KnowledgeWave to get access.