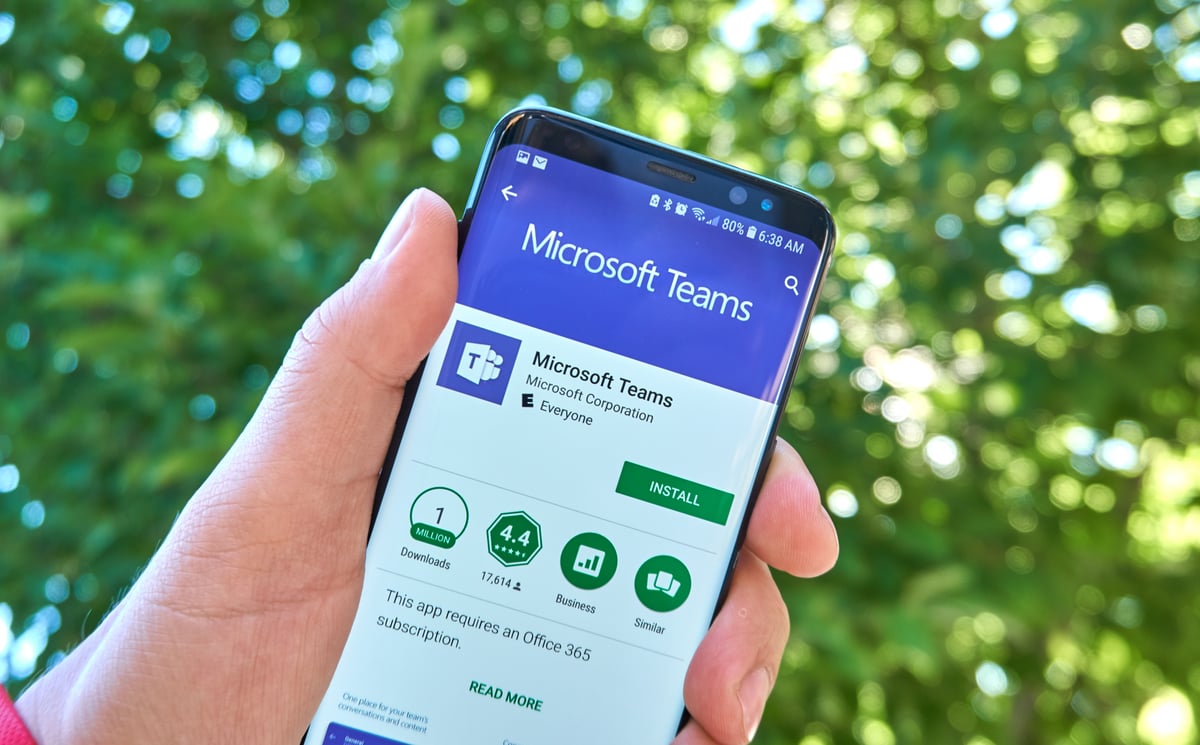 Microsoft Teams presents new ways for users to communicate and work around their projects and tasks. While Microsoft Teams is easy to turn on, adoption can be a challenge for many organizations. As the best practices around Microsoft Teams continue to mature, KnowledgeWave is keeping pace for our clients in several ways.
Why KnowledgeWave for Microsoft Teams Training?
We assist organizations by conducting stakeholder workshops that help bring faster user adoption of Microsoft Teams. Understanding what Teams can do (as well as what it may not be able to do) is a core component for a successful Teams deployment. A huge piece of user adoption is helping users understand how they may need to work differently to accomplish goals.
KnowledgeWave has industry-leading expertise in Teams and is a national leader in transforming the modern workplace through training. We help employees be more productive with Office 365 and modern collaboration software like Microsoft Teams. Our Microsoft Teams workshops help businesses and the champions at those businesses create tipping points that spark user adoption.
Why you need an Office 365 Champion (or 10)
Beyond stakeholder workshops, the companies that we work with leverage the KnowledgeWave Learning Site (KLS) and our Microsoft Teams training content to provide 24/7 learning access to their end-users. We offer a variety of training modalities, which means that our customers can offer the type of training that is most appropriate for their audience. Our online learning library is a self-serve approach and can be blended with live webinars and hands-on training when required.
Training for Mobile Applications Included
As Office 365 tools like Teams evolve, so does our video content. Whether it's urgency notification, posting across channels or game changers like private channels, our video learning content is updated regularly. We also understand the importance of accessing productivity on mobile devices, so we deliver content for those versions of the tools as well.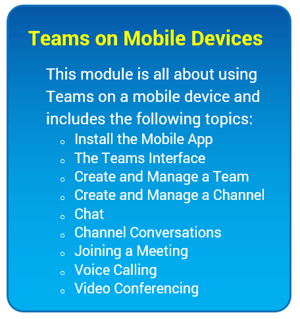 Microsoft Teams and Office 365 on devices like mobile phones or tablets is extremely powerful. Our KLS subscribers also have full access to our mobile content, to help their users find additional value with the Office 365 tools that are mobile compatible.
Our Microsoft Teams: Essentials Training Series contains three major modules listed below. The bullet points within each module are detailed videos covering specific topics.
Microsoft Teams: Essentials Training Series

Organize Your Team

Create Teams and add Members
Adding External Members
Join a Team
Channels and Creating Them
Persistent Chat and Private Messaging
Pop Out Chat
Team Conversations
Team Announcements
Teams Urgent Message Option
Posting Across Teams and Channels
Emojis, GIFs and Memes
Change your Status
Deleting Teams, Channels and Conversations
Managing Teams
Using Tags
Share Files, Edit and Collaborate
Use Search and Customizing Your Team

Customize Channel Tabs
Manage Channel Permissions
Create a Private Channel
Apps, Bots and Connectors
Using Search in Teams
Save Items
Find and Filter Files
Keyboard Shortcuts



Working with Files in Teams

Managing Documents
Work with a Teams File
Syncing
Create a New File From Teams
Upload Files to Teams
Team Meetings

Video and Voice Calling
Schedule a Teams Meeting
Join a Teams Meeting
Share Content During a Meeting
Record a Meeting

Working with KnowledgeWave, you get more than a Microsoft Teams training provider. You also get a resource for Adoption and Change Management, where our Service Adoption Specialists can share best practices for deploying and adopting Office 365.
If you are researching, considering or planning on deploying Teams or Office 365 within your organization, let us help guide you through the process. We offer:
Other Microsoft Teams Related Blogs: