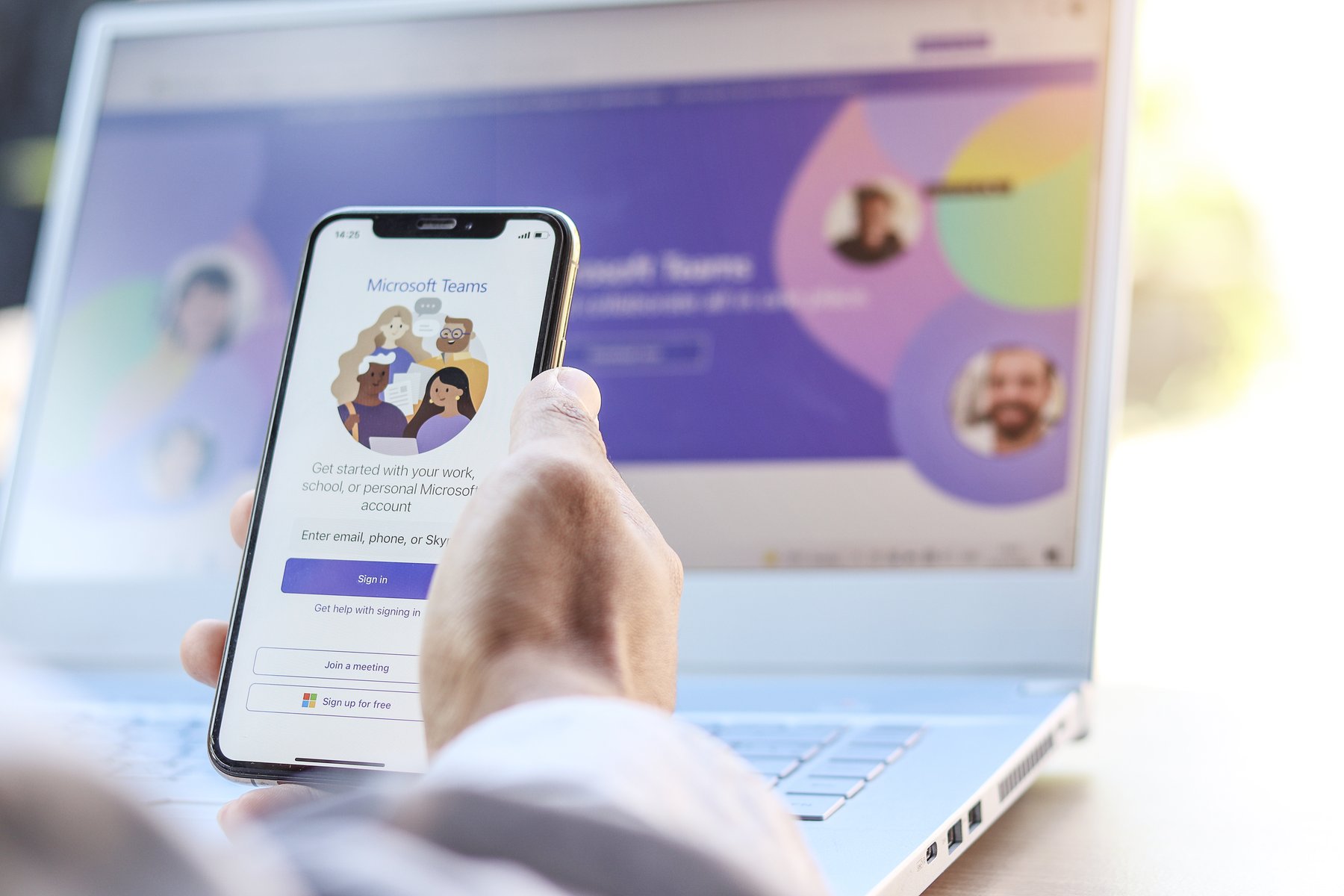 In today's fast-paced business landscape, collaboration has become the cornerstone of success. Microsoft Teams is leaned on by many, but what if you could take your collaboration to the next level? What we are all beginning to discover is that Microsoft Teams Premium is here to unlock a new dimension of possibilities, a few that you may not have considered yet.
In this blog post, I'll explore features of Microsoft Teams Premium, focusing on intelligence, personalization, and security. Along the way, I'll share how these features can inspire you to make a well-informed decision for your own organization.
I spend a lot of time in front of my computer consulting, meeting, facilitating instructor-led training, and creating new content. When I take off the headset and unplug, I enjoy spending my time on DIY projects, woodworking, and gardening. I have lots of tools and I also love a good analogy! Let's take some time to look at Teams and Teams Premium as tools:
Think of Microsoft 365 as a massive, well-stocked toolbox. Inside it, you have a variety of tools and features, each serving a unique purpose in the "day in a life" of you and your team. Among these, Microsoft Teams is a tool that many of us rely on. But what if I told you there's a way to take this trusty tool and transform it into a power tool, a precision instrument? Microsoft Teams Premium is that upgrade, and it's here to revolutionize your collaboration experience.
The Toolbox: Microsoft 365
Before we dive into the intricacies of Microsoft Teams Premium, let's take a moment to appreciate the toolbox itself – Microsoft 365. It is a very fancy, versatile, comprehensive collection of tools. It is not necessary for us to know how to use every tool in the toolbox and I think that is important to consider. Not everyone is going to use the same set of tools. They are designed to enhance productivity, streamline work, and ensure you have everything you need right at your fingertips. Just like a well-organized toolbox can make a craftsperson's life easier, Microsoft 365 is a dream come true for a pro (or even a semi-pro!).
Within this vast toolbox, Microsoft Teams is like the trusty multi-tool (or Swiss Army knife) that you carry with you everywhere. It helps you connect, communicate, and collaborate with your colleagues, clients, and partners. It has been the go-to solution for many of us and is a reliable companion in the modern digital workplace.
Now, let's talk about Microsoft Teams Premium, the power tool upgrade you never knew you needed. With Teams Premium, your ordinary multi-tool transforms into a cool power tool, a precision instrument, ready to tackle complex tasks using AI and incredible potential.
Unlocking the True Potential: Intelligence, Personalization, and Protection
Teams Premium offers three key features that transform it into a power tool:
More Intelligent
Imagine your multi-tool suddenly gains a built-in AI assistant. That's what Teams Premium brings to your collaboration experience. It uses AI to focus on what matters most in every meeting. With Intelligent Recap, you get AI-generated meeting notes, recommended tasks, and personalized highlights. It's like having an additional perspective in your meetings, allowing you to focus on the discussions, not the note-taking.
Teams Premium Is More Personal
Your multi-tool can now be customized to reflect your brand. Microsoft Teams Premium enables you to infuse your brand identity into your meetings with tailored backgrounds and scenes. It's as if your multi-tool is no longer generic but customized just for you, creating a lasting impression on your audience. Personalizing your multi-tool is like getting work swag for your virtual self!
Teams Premium Is More Protected
The security of your multi-tool gets a major upgrade. Advanced Meeting Protection equips you with tools to safeguard sensitive information during virtual meetings. You can watermark shared content, control recording permissions, and even enable end-to-end encryption. It's like adding a cool protective case that goes on your belt for your multi-tool, making sure that confidential information stays confidential.
Unlocking the Power of Microsoft Teams Premium for Decision-Makers



Teams Premium is inspiration for your toolbox and as you consider the capabilities, think about your own toolbox. How could intelligence, personalization, and protection enhance your collaboration? What benefits could these features bring to your meetings, and what opportunities could they unlock for your brand? For inclusion? Ah yes, let us marvel at the possibilities.
Elevating Your Collaboration Game



Microsoft Teams Premium is not just another tool in your toolbox; it is the power tool that elevates your collaboration game. It is the precision instrument that simplifies your work, enhances your brand, and secures your data.
Read more: Boosting Microsoft 365 Adoption with Data-Driven Collaboration
Enhancing Security with Microsoft Teams Premium Features



With customizable features like end-to-end encryption, watermarking, and control over meeting recording, Teams Premium enhances the security of your virtual meetings, which is important for protecting sensitive information.
Fostering Global Collaboration: Microsoft Teams Premium Translation Capabilities



Teams Premium offers translation capabilities, making it easier to collaborate with a global or distributed team by providing live translations and captions, fostering inclusivity, and breaking language barriers.
Read more: Live Translated Captions in Microsoft Teams Meetings

Boosting Efficiency: AI Magic in Microsoft Teams Premium



The AI features, such as Intelligent Recap and AI-generated meeting notes, simplify the meeting experience by automating note-taking and highlighting essential discussion points. You may feel like a magician, as it will magically save you and your colleagues hours of time you never knew existed (especially if you double-book a lot)!
Crafting Your Brand Identity: Personalization in Microsoft Teams Premium



You can personalize your meetings with custom backgrounds and scenes, reinforcing your organization's brand identity and creating a more engaging and professional (or fun!) atmosphere.
User-Friendly Excellence: Navigating Microsoft Teams Premium with Ease



Certainly, training on how to use a tool is important for efficiency, productivity, and even safety! Teams Premium is designed with ease of use in mind, ensuring that both beginners and experienced users can easily use the power tool to get the job done. However, training and tool-sharpening is an important consideration and is preventive maintenance for any organization, department, team, or individual. Teams Premium is new! It is also a work in progress with new features and development coming at us rapidly. I love it.
Evolution of Excellence: Microsoft Teams Premium in Progress



Hopefully, this is a helpful analogy and inspires you to think critically about how Microsoft Teams Premium could transform your collaboration experience. By understanding these features and assessing how they align with your organization's unique needs, you can make a well-informed decision.
Critical Analysis: Transforming Collaboration with Microsoft Teams Premium



Does everyone at your organization need to use power tools? Probably not. Those who could benefit from upgrading, however? We are blown away. Microsoft Teams Premium isn't just about collaboration; it's about elevating your entire modern business experience, and it's waiting for you to unlock its potential.
Licensing and Trial Options: Microsoft Teams Premium Insights



Note:
When the organizer of a Teams meeting or live event is licensed for Teams Premium, the Live translation (for captions), advanced Meetings protection, and advanced webinar features are extended to all meeting participants, including external and guest users.

External participants in Virtual Appointments don't require a Teams Premium license to benefit from Teams Premium advanced Virtual Appointments.

All meeting participants must be licensed for Teams Premium to benefit from the Intelligent recap feature.
There's a way you can give it a try! Organizations can try Teams Premium by purchasing the zero-cost Teams Premium 30-day trial license available in the Microsoft 365 admin center.
Organizations with a Teams Premium trial license will have 25 licenses to assign to users. Those 25 users can experience and test Teams Premium features as they become available. Also, the admin can manage Teams Premium features for the 25 licensed users. Introductory pricing is available for the entire term of your initial subscription (except for some month-to-month and some three-year subscriptions). Buy it for $7.00 per person monthly (30 percent off the standard price, but the offer for that pricing ends December 31, 2023, and is available worldwide to commercial (including worldwide commercial public sector), nonprofit (standard discounting applies), and Government Cloud Community (GCC) organizations (GCC feature availability may vary).
Teams Premium Pricing Plans
Microsoft Teams Premium offers two pricing plans: Microsoft 365 Business Standard and Microsoft 365 E3. The Microsoft 365 Business Standard plan costs $12.50 per user per month and includes access to Teams Premium, as well as other Microsoft apps, such as Word, Excel, PowerPoint, and Outlook. The Microsoft 365 E3 plan costs $32 per user per month and includes additional security and compliance features, as well as advanced analytics and voice capabilities
About KnowledgeWave
For the past 20 years, KnowledgeWave has been helping companies deploy and adopt the latest business software. We stay up to date with the most recent software features and are constantly adding additional training to our online learning library, the KnowledgeWave Learning Site.
As a Microsoft Partner, we stay on top of all the newest features released within Microsoft Teams and Microsoft 365. We pride ourselves on having helped hundreds of organizations throughout North America deploy business solutions for their organizations.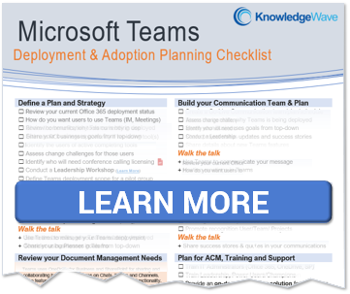 If you are researching, considering, or planning on deploying Teams or Office 365 within your organization, let us help guide you through the process. We offer: