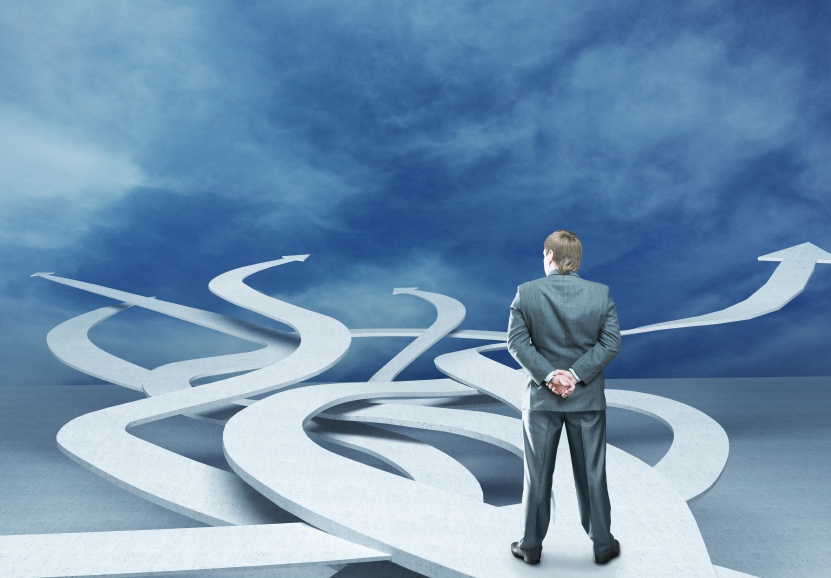 An updated version of this blog post discussing Office 365 Licensing in 2020 has been posted here.
You can't go a week without hearing about a well-known business making the move to Office 365. Microsoft highlights many migrations on their Microsoft Office Blog. While many enterprise size clients have a direct line to licensing questions with Microsoft, the small to mid-size businesses are often times working with a Managed Service Provider (MSP) or even trying to figure out costs on their own. This post continues to help many SME's from overspending on Office 365 Liceneses.
Microsoft announced this week 7/10/2017 during their Inspire event, Microsoft 365. Daniel Chang BG Lead at Microsoft states "Microsoft's vision is to empower every person and every organization on the planet to achieve more. To align this vision, Microsoft needed to provide more solutions instead of separated products." I'll be reviewing this in a separate blog post in the very near future, the link will be posted here. The basis of Microsoft 365 is to pull together Office 365 AND Windows 10 with Enterprise Mobility and Security. This bundled solution will be available to Enterprise (E3-E5) and Business licensing models. More to come.
The rest of this post was reviewed for accuracy last in May of 2017.
Confirmed: You can add in-place archive for email for Outlook users under a Business Premium plan. The cost of this add-on is $3.00 per user. This is included included with the E3 and E5.
======
The licensing for a modern workplace leveraging Office 365 doesn't have to be overwhelming...but deciding between Office 365 Business vs Enterprise can feel confusing to many organizations and I'll try to tackle that challenge in this post. I do ask that you note that SaaS solutions like Office 365 evolve quickly, which can cause changes in licensing costs and the benefits included at the various licensing tiers. Additionally, working with a MSP that is a Cloud Services Provider may provide some discounts. This information is accurate as of May 2017.
Oh, and once you've made your decision and the time comes to roll out to end users, don't forget the training! Don't let your users be confused or blindsided by things like Skype notifications or Outlook's Clutter folder which is most recently being replaced with the Focused Inbox.
Where do businesses start?
When a business looks at an Office 365 plan, they should do so for all users. A big tip here: blending on-premise software (previous volume licensed versions) with Office 365 online licensing can limit access to particular features for collaboration for the users not using an Office 365 license. While it is possible, a mixed versioned environment has always been a challenge, and there's no change with Office 365. While you can mix Office 365 license versions without much problem, combining on-premise with online licensing can prove to be a challenge.
Upgrading all users to Office 365 is your best opportunity to get everyone running a like version of the Office Software. When you're budgeting you should plan on getting everyone in your organization an Office 365 plan, they may use a different license version, be it an E3 or E5, but having everyone on board with Office 365 will help increase adoption, acceptance and improve your company's collaboration efforts.
While it's technically possible to blend Business licensing with Enterprise licensing my recommendation is you don't. When budgeting and counting your users, get both a headcount and another tip, a mailbox count. Shared mailboxes will need to have their own Office 365 license.
Office 365 Business vs Enterprise

licensing and which license level?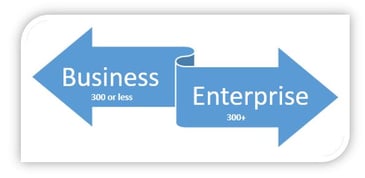 Step one is to consider either Business or Enterprise licensing levels. While it seems that headcount and mailbox count would be deciding factor, there are some additional reasons for tipping to Enterprise licensing. We'll get to that later in this post, but let's start with the headcount and shared mailbox count. If your total count is less than 300, you could consider looking at the Office 365 Business plans. However, if you plan to exceed this count in the first year think about going Enterprise now.
Now, if you're looking at the Business plans the next thing to do is to look at what these plans lack in comparison to the Enterprise options. If you decide that you need any of the Enterprise features, then consider the Enterprise plans now, and move on to determining what Enterprise license levels you need for your users.
In some cases, you may be able to add-on services you want, like unlimited archive on a per user basis for those that require it and still pay less overall. However, it will require some calculations to figure out the best pricing for your users and business if you leverage the per user add-ons available.
Key differentiators between
Office 365 Business vs Enterprise

licensing

If you require any of these features, move on to the Enterprise licensing breakdown below. If you're thinking that the Business licensing will work for you, there are 3 options. Please note that rates listed are based on an annual agreement. Monthly options are available at slightly higher monthly rates.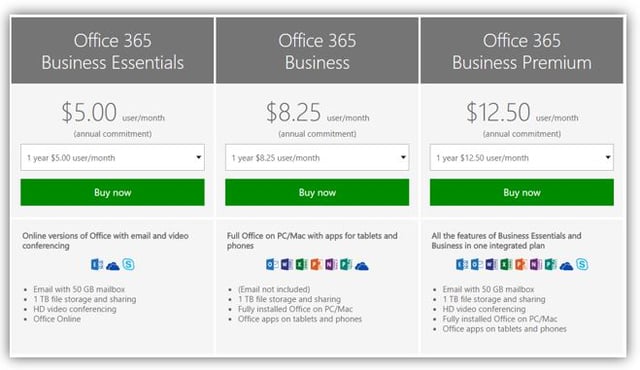 The majority of our clients looking at the Business licensing fall to Office 365 Business Premium, although some businesses only need email access and basic online Office applications for some staff. A blend of Business Essentials and Business Premium is commonplace in certain work environments.
Why go with Office 365 Enterprise licensing?
Many of the businesses we work with select an Enterprise plan for one or more reasons. Lowering the cost for PSTN (dial-in) conferencing with Skype for Business can be a significant cost savings versus using other meeting software like GoToMeeting or WebEx. Providing Power BI Pro access can help an organization visualize and analyze everything in one place. Or maybe you need to provide Microsoft Access to team members. Access is included in ProPlus, E3 and E5 plans, and as of November 4th, 2016 is included with Office 365 Business and Business Premium. Or maybe it's the additional features that are part of SharePoint Online (Level 2) for the Enterprise licensed clients.
Comparing Business Premium to ProPlus, E1 and E3 licensing
When a client is considering a Business Premium account for their users at $12.50 a month it's natural to look and compare the Enterprise licensing, especially considering that the Enterprise E1 license is $8.00 per user. Or you start thinking about what additional benefits you get from the Enterprise E3 license for just a bit more ($20.00 user/mo). Let me dive a bit deeper.
Business Premium vs. Office 365 ProPlus ProPlus is $.50 per month less with Annual Commitment. - ProPlus provides no Exchange mail, only local Outlook Client for your use. If email is needed, this usually pushes you to consider Business Premium or Enterprise E1.
Business Premium vs. Office 365 Enterprise E1 E1 is $4.50 per month less with Annual Commitment. - E1 provides email, but you must use Outlook and other Office applications (Word, OneNote, PowerPoint, Excel) online. No Office applications installed on desktop, including no Outlook.
Business Premium vs. Office 365 Enterprise E3 E3 is $7.50 more per user. - In terms of included applications, this is the most comparable package when comparing Business Plans versus Enterprise Plans. You just need to decide whether the extra perks of Enterprise are worth the price jump.
So what's in E3 that's not in Business Premium?
Exchange Online Archiving (EOA) and Legal Hold
Unified eDiscovery Center
Rights management, data loss prevention and encryption
Ability to add-on PSTN service
*As of 11/4/16 Microsoft Access is available with Business Premium.
And what's in E5 but not in either Business Premium or E3?

Note that as of October 5, 2016, Microsoft started offering an Office 365 E5 SKU that includes PSTN Conferencing. In countries where PSTN Conferencing isn't available, customers can purchase an E5 w/out PSTN Conferencing for $35. The add-on option for $4 will remain available for Skype for Business Plan 2, as well as Business Essentials, Business Premium, E1 and E3 customers. The cost of the new E5 SKU with Skype for Business PSTN is $35. Read additional FAQ here. If you'd like to view more details, I've added this link to the Microsoft's Enterprise E5 Licensing PowerPoint. It illustrates cost savings when you're considering the need for Power Bi, Analytics, PSTN or Cloud PBX needs.
These are the items you'll get in an E5 that are not included in an E3.
Analytics via Power BI Pro and Delve Analytics
Skype for Business PSTN conferencing option
Advanced eDiscovery and security
Ability to add a Cloud PBX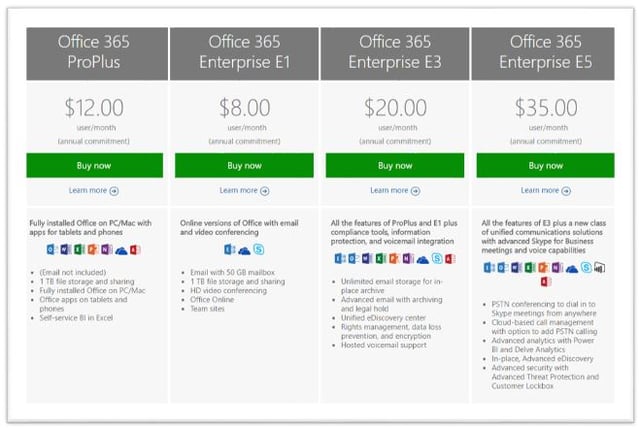 Add-ons with Business Premium plans
If you have read this far you're at least considering the Microsoft Enterprise plans. I've listed the current pricing for the Enterprise license versions above. A nice option that Microsoft allows is the ability to purchase add-on services in an à la carte fashion for individual employees. Just watch out, too many add-ons and you may spend more than had you chosen an appropriate Enterprise license.
Updated: 11/28/2016 - Many of these add-ons are no longer available in Business Premium plans and require an enterprise plan to add as an add-on. This may further increase your likelyhood of going with an enterprise license verses the business plan.
You might also like...
Current subscription enhancements and add-ons available: (Required License)
Understanding how quickly changes can happen in pricing and available features and add-ons, I'd welcome comments by readers for adjustments to this post when and where appropriate.
Marcel Alberts created a great graphic that outlines what's in each licnese.
Click to Expand.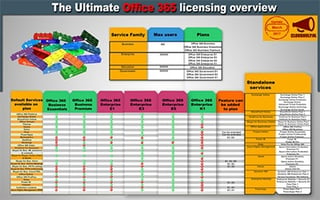 Graphic/Image Credit: Marcel Alberts