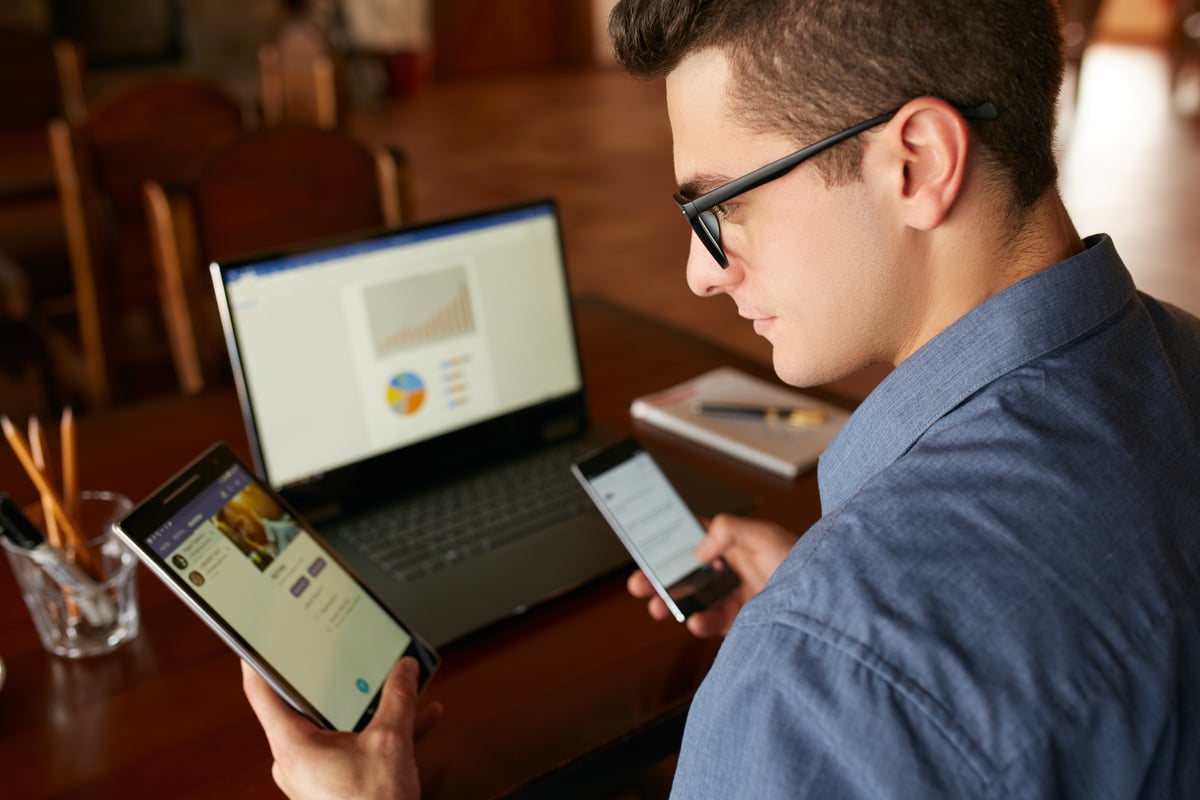 Microsoft Teams is a unified enterprise-level communications platform that offers fantastic utility to all types of organizations. Investing in Microsoft Teams provides consideration and the chance to replace aged business phone systems with a new modern integrated cloud-based communication tool. If you're interested in ways to increase your company's productivity, consolidating your communications structure, and enhancing internal strategizing companywide, consider the following reasons why your business may want to consider using the Microsoft Phone system with Microsoft Teams and Office 365.
Cloud Auto Attendants
The feature allows you to create a phone menu system for internal and external callers. The menu system allows easy navigation for placing and transferring calls to company users or specific departments within a company. Automated phone menus allow you to streamline the call traffic in your organization. This improves customer experiences by allowing them to reach the representatives or departments they need to contact quickly with an intuitive system. The Microsoft Phone system even allows callers to move through features via voice input.
Call Forwarding Options in Teams
The built-in notification system alerts everyone in the appropriate permission group whenever a call is made or answered for someone else. Teams also includes other call forwarding options like forwarding rules for business phones to personal phones, colleague-to-colleague forwarding, and voicemail settings.
A Central Hub for Conversations and Recording Meetings
Another advantage of Microsoft Teams is the ability to easily track all of your conversations in one location. You have a central hub location for Instant Messages, phone calls, voicemails and even meeting transcriptions. Recorded meetings are automatically saved to a user's personal Microsoft Stream, and if enabled, transcribed, so that you can quickly review a particular topic form a meeting by searching by a keyword.
Transfer Team Calls
Teams make call transferring easy; you can configure the system to hold, forward, or transfer calls between devices seamlessly. You can also create a Call Cloud Queue and field multiple calls at once. Device switching functionality in Teams allows you to answer a call on one line and transfer it to another device, perfect for when you need to leave the office but have an important call you need to continue.
Status Changes
Administrators can configure user profiles in Teams to allow tagging. For example, call center employees can mark themselves as "unavailable" during break times or "user resolution" if they need to take time away from answering phones to solve specific user issues.
Every technology integration or system rollout for a company can come with growing pains, but Microsoft Teams and the Microsoft Phone System is a fantastic addition to any enterprise's communications environment that can boost productivity and streamline internal and external communications.
KnowledgeWave is a trusted training partner for many industry leaders across the country. We work closely with clients to develop customized enterprise training programs to help companies optimize their operations by taking advantage of the latest technologies. Contact us to learn more about how we can help your team prepare for a Microsoft Phone System integration with Microsoft Teams.
If you are researching, considering or planning on deploying Teams or Office 365 within your organization, let us help guide you through the process. We offer:
Other Microsoft Teams Related Blogs: