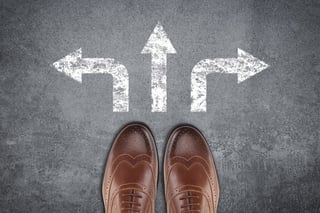 A company's IT team sees its fair share of challenges every day. Yet, as the managers of the technology backbone, you're vital to the organization's forward movement and success.
Part of that management involves seeking solutions to difficulties that get in the way. As many organizations adopt Office 365, their IT teams are realizing they can solve problems with Office 365, using its various applications and features to overcome common sore spots related to cost, communication, and more. Here are a few of our favorites.
"I can't access my files while traveling."
The days of setting up a VPN to grab files from the office are gone. Where ever there's a sufficient internet connection, your remote employees can access their files with the aid of features like SharePoint and OneDrive - whenever they want, and from any device. With OneDrive, Office 365 solves the document version control problem.
"Your email inbox is over its storage limit…again."
Email clients have evolved—to the dismay of many IT professionals—into an environment where entire conversations take place. As a result, IT resources are drained chasing down repeat offenders and it produces strain on the network. A messaging client, like Skype for Business, or a team workspace (like Teams or SharePoint), could alleviate some of that stress by moving certain conversations out of the inbox.
"Our outdated backup process puts our data in danger."
Everything is moving to the cloud it seems. Even secure data storage. Its built-in security and continuous compliance makes Office 365's storage a safe and effortless process. There's even added functionality to remotely wipe devices if they get lost or damaged. See my recent article on OneDrive for Business governance for more information about protecting sensitive data in the cloud.
"Our applications are out of date."
Your subscription to Office 365 is constantly updated behind the scenes - subtly, to avoid any disruptions to the user's workflow. You can relax (a little) knowing your users have the most up-to-date security and features. Your budgets will smile a bit as well, since you'll never have to purchase a newer version of Office again.
By the way, if your team is using the cloud to get work done, then it's to your advantage to make sure that everybody knows how to use the cloud effectively. And what better way than to offer cloud-based training, aka Training as a Service (TaaS).
"I can't find the document I need."
If you have an office filled with 100 people, you've probably faced 100 methods and destinations for saving documents. Office 365 provides centralized document storage as a solution. In addition, employees can access it from anywhere on any device as long as their connected to the internet.
"You saved 10 versions of the same document?"
Network space is valuable and limited. The last thing you need are unnecessary versions of documents taking up room. In Office 365, Word, Excel, and PowerPoint come packaged with real time co-authoring capabilities. Now members of the same team, cross-department collaborators, even outside clients can work together on the same document. All you need is a OneDrive for Business and SharePoint policy to guide the way. It may help to reduce your monthly ibuprofen costs, too.
"Our conferencing solution is expensive."
The bottom line on in-office and outside communication tools can add up very quickly. Solve problems with Office 365 via Skype for Business (formerly Lync): it combines a messaging and conferencing solution into a single, cost-saving application suitable for most business sizes. Users also have the co-authoring capabilities mentioned earlier at their disposal for real time collaborative work between meetings.
"Onboarding new employees eats away IT's time and resources."
Office 365 can't train them for you, but it can make accessing the tools to succeed easier to retrieve. Everything a new hire needs—from email to conferencing—can be downloaded from the cloud. Plus, they'll have the most up-to-date versions of any application all the time. Thus, the configuration time needed from IT drops considerably.
"Setting up an online meeting is frustrating and requires multiple solutions."
Skype for Business could replace the various tools you currently use to set up and run meetings into a unified application. It includes desktop sharing, a virtual whiteboard for brainstorming, and the option to communicate by voice or video. Users outside of the organization can easily participate, too, through a free download of the client. All that saved time and energy can go into discussing what matters more for the company.
"The company spends a fortune every year on its IT infrastructure."
Concentrate more on the core business needs rather than worrying about the cost of new or updated infrastructure. With its cloud-first philosophy, Office 365 follows the trend countless other solutions utilize - and countless small businesses rely upon. Our advice: focus on solving problems with the Office 365 features that matter most to your team.
"I can't figure out this confusing license and pricing structure."
Goodbye upfront costs. Goodbye contracts. Goodbye messy licensing models. Office 365's simple, flexible monthly billing couldn't be less of a hassle. (You might also like my article on how to choose Office 365 business vs. enterprise licensing.)
You pay for the number of users you need - that's it. This makes the licensing scalable and cost-effective. IT teams also appreciate that all users use the same version of its applications. You won't be chasing multiple versions of the same program across machines.
Of course, if your organization is considering Office 365 as a solution, we'd love to help show users at every level how to get the most out of it. You might be wondering if Office 365 online training is right for your team. We have years of experience helping teams solve problems with Office 365.
Check out all of the online and on-site training options KnowledgeWave offers.
This is merely a sampling of the countless ways Office 365 can help your team overcome common business challenges. With its extensive suite of features and abilities, the solution has a lot to offer organizations of any size. You're likely to find cost and time saving solutions to the headaches your team addresses frequently.