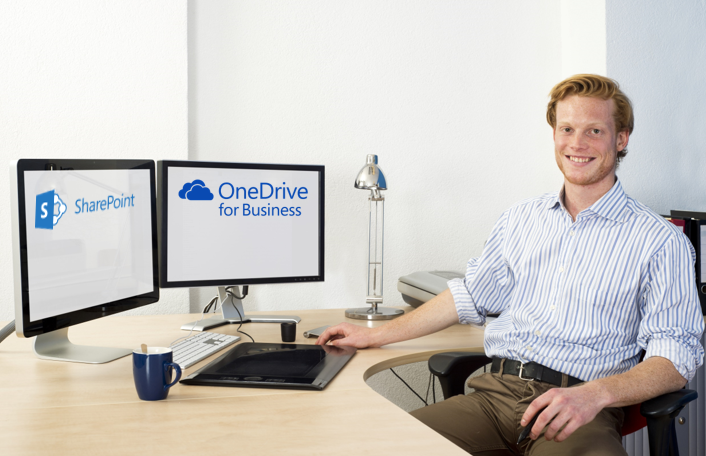 Combining the forces of Microsoft Office 365 SharePoint Online and OneDrive for Business can give your company a powerful communication and information exchange system. You can easily share and store files, comply with security requirements, and give your enterprise the tools it needs for enhanced business processes. Migrating to Office 365 with SharePoint and OneDrive can yield several important benefits, including the following top five.
1. Enhanced Security
Security is a major concern for the modern-day business. Sophisticated cyber attacks, fraud schemes, and system hacks can leak sensitive information about your brand or your customers. Poor communication security can compromise the integrity and reputation of your company. Letting information fall through the cracks could expose your company to a major breach, data losses, and bad press.
Incorporating SharePoint and OneDrive into your operations can prevent some of those security issues. Your teams can share vital information without divulging any sensitive propriety information embedded in documents through SharePoint real-time collaborations. Hosting operations through a single, integrated platform also reduces your vulnerability to holes, leaks, and attacks across multiple systems. You can also monitor user behavior, to help ensure compliance with any internal policies. Learn more about the security features in our past past post on business governance.
2. Effortless Collaboration
SharePoint is a rich, open platform that makes it easy to create and share business information from a single location. SharePoint and OneDrive can seamlessly connect employees with the documents, information, people, and projects they need to perform their jobs. Collaboration tools such as Microsoft Teams fill gaps in business communication and use technology to facilitate internal conversations.
Microsoft Teams is an Office 365 product that allows each company to personalize its collaboration solutions. You can create a new collaboration in minutes, tailoring it with specific features to help make teamwork as efficient as possible – while still encouraging creativity and innovation. Teams can work closely on a project without hang-ups such as lack of program consistency across systems or blocked access to certain information. With Teams, you can build the collaboration setup that's right for your team.
3. Simplified Information Exchange
Easy information exchange goes together with better collaboration. Special features such as alerts make it easy for employees to easily get the important information they need, without costly delays or miscommunication. Simplifying access to business information for everyone enables collaboration and keeps everyone in the loop. Users can have access to business data from systems such as Microsoft CRM and create personalized dashboards for maximum usability. Not only that, but users won't have the same version control issues that are prevalent when storing files on a server; you can maintain a single document, allow multiple users to continuously update it, all with a record of the changes and the ability to revert back to an earlier version if needed.
4. Cost Savings
SharePoint and OneDrive can save your company money. Having a total cloud solution eliminates the cost of a separate cloud account and data storage plan. In addition, cleaning up and simplifying your operating systems can prevent wasted dollars spent on fixing bugs and patching problems. You can save time, money, and stress with SharePoint and OneDrive.
5. Better Productivity
SharePoint and OneDrive give your company the opportunity to streamline and automate key processes. It's easier than ever to transmit data, track information, manage documents, work on group projects, and much more without confusion or delays. Customize your solution using Microsoft Flow and PowerApps to best suit the unique needs of your staff members, maximizing ease of use and productivity. A more productive workforce means better business efficiency and profitability.
Read More About SharePoint & OneDrive:
Editor's Note: This post was originally published in November 2018, but has been thoroughly revamped and updated for accuracy and comprehensiveness.