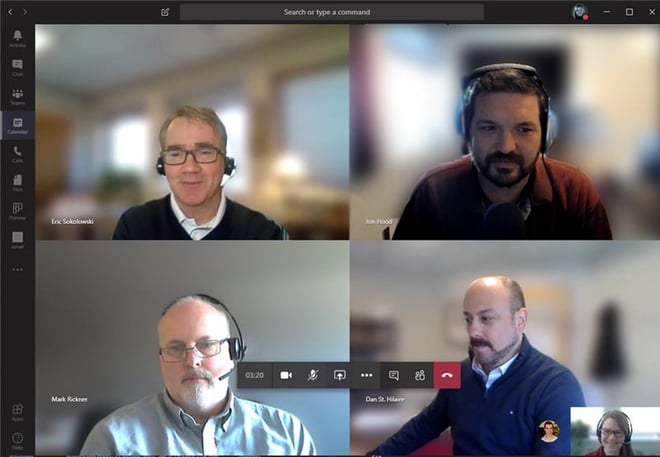 The realities of COVID-19 including the current mandated social distancing and "work from home" orders have changed our lives and our businesses. As a small business owner my company, KnowledgeWave, has had to adapt to the new ways of doing business during this pandemic.
At your company, you are most likely doing the same.
KnowledgeWave, as an online training company focused on Office 365/Teams and professional development training is in a unique position. Having already started the transition to online training through a member learning site, webinars and online classes it was a logical step to move away from traditional in-person, onsite "brick and mortar" classes during this crisis.
What was more unexpected was just how well the tools we teach to others worked to meet our own internal needs.
As an example, before COVID, I had instituted a daily morning huddle at 9 am to discuss how our past day had gone, discuss new sales, and see who may be looking for assistance with projects. Standing meetings with a cup of coffee in the hallway.
With the move to working from home we moved the meeting online, using Teams (but you could certainly use Zoom or a similar product) and after a little training (think of the cobbler with children who don't have shoes), we are holding efficient, productive, online "huddles" each morning. Seeing how easy the huddles are to participate in, my staff is quickly adopting online video-based meetings to keep in touch with our clients and prospects.
Regardless of how you implement "huddles" at your organization I highly recommend you consider them as an option for maintaining team spirit and a sense of community within your company. It has certainly worked for us here at KnowledgeWave.
As we work with our current and new clients we are also seeing a desire to use the current situation in as positive a way as possible. Difficult for sales-people to be on the road, financial firms have moved to limited employees in the office, and most organizations are still figuring out how to keep staff productive, Many are indicating that they are using this as an opportunity to increase future productivity by focusing on internal training and professional development.
We have seen a rapid increase in client use of our online learning site (KLS) and requests for custom online webinars focused on:
How best to work effectively from home
Online collaboration with OneDrive and Microsoft Teams
How to fully leverage Office 2019
Outlook (now is a great time to clean out your Inbox and create a few Rules)
Office 365
And more! See our webinar schedule here!
The reality we live in today will pass and now is the time to prepare your staff with the training that will make sure your entire organization is as productive as possible when it does. Even as a training company, internally we are taking the time to learn.
I have been told many times that "we would love to do training, but we simply don't have the time".
This is the time.
The following is a link to a recent webinar we offered on Working Effectively from Home.
Free Training: How to Be an Effective Employee While Working from Home
If you are researching, considering or planning on deploying Teams or Office 365 within your organization, let us help guide you through the process. We offer:
Other Microsoft Teams Related Blogs:
If you feel your staff would benefit from training (as did mine), please feel free to call or email.
Eric Sokolowski
President - KnowledgeWave
(800) 831-8449